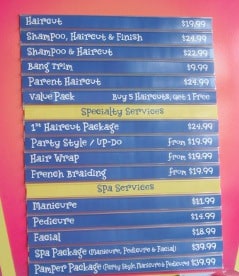 Address:  Multiple, We Visited Rice Village, 2522 Rice Boulevard, Houston, TX 77005
Cost:  Reasonable (but not cheap)
Appropriate Age:  Any kid
Our Review:  Big brother Joe got to go on a special weekend outing with his grandparents, so Brooke and I decided to have a special Princess Day. I knew that Snip-Its  had haircuts and up-dos, so we headed over to Rice Village.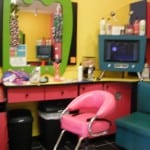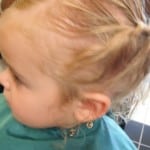 On a weekday at 3:00, we were lucky to just beat the after school rush. We walked right in, without an appointment, and went straight to the stylist's chair.
The studio is perfect for kids, with bright colors, TVs at each station and prizes. I'm certain that parents could spend a fortune on each trip if they were not careful. Haircuts start at $19.99 and Spa Services start at $11.99. There are also a lot of products you can buy.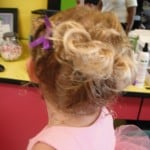 We had a $10 off a haircut coupon from the website HERE, so we asked for a haircut. For the last 3 years I've been cutting tangles out of Brooke's crazy curly hair, but we have never gotten a haircut. To my surprise, when it was combed out, it was even and needed little work. (I guess I've been cutting knots out evenly all over he head.)  With little work to do, the stylist just pinned up Brooke's hair into a Princess Up-do, added a couple bows and finished with glitter spray.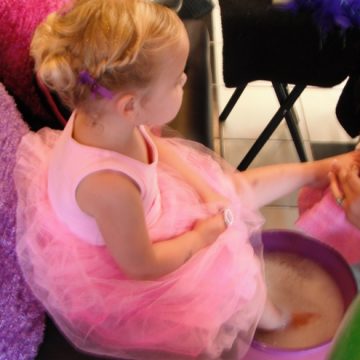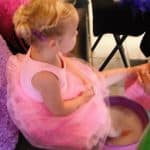 As we were checking out with our $10 haircut (which was actually a style), we received a coupon for 25% off of spa services. Since we needed to extend our princess outing, I let her pick between a Manicure ($11.99) or Pedicure ($14.99). She opted for the toes, so we headed to the little spa station.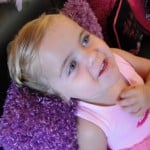 At the spa station she soaked her toes in the bubble water while she waited for the royal treatment. After soaking her feet, the stylist filed her nails and painted her toes pink and added a little sticker to the big toe. Next Brooke got a mini leg massage with strawberry lotion. The pedicure was finished off by a toe ring and mini pedicure flip flops.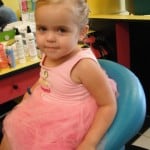 Feeling like a real princess, we went to pay again. With our 25% off coupon, the pedicure was $11.25. I don't plan to pay for a pedicure, for my 3 year old, every week, but it was just perfect for our Princess Day.
The staff was very friendly and Brooke really felt special. I'll wait for another special occasion, and find some more coupons, and head back to Snip-its!