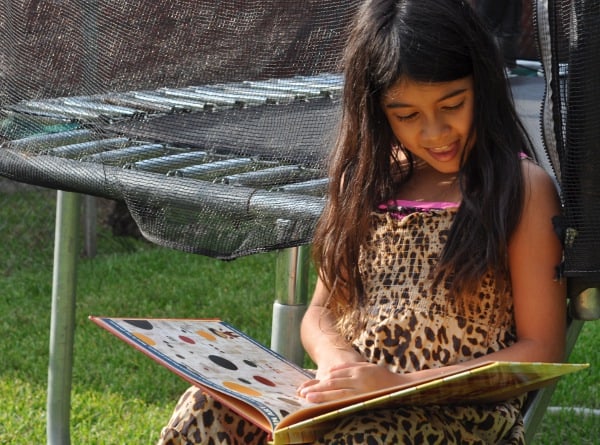 It's
Felicia
! Today's review is of
Science Verse
by Jon Scieszka and Lane Smith!
With my husband being a scientist, my girls are really excited about anything science related so when I found this book and discovered that it was written by the amazing duo Scieszka and Smith, I had to grab it.
We have their other educational collaboration Math Curse
and we absolutely love it. While Math Curse gets children interested in basic mathematical ideas, "Science Verse introduces different chemical, biological and physical science terms.
Now, this book is not going to teach you in a textbook manner. After all, this is the author who wrote, The True Story of the Three Little Pigs
.  But, Science Verse will give you delicious illustrations that make topics like precipitation and evaporation easy enough to discuss with any five year old.
The book begins with Mr. Newton, the science teacher, zapping his class with "a curse of science verse" and describing the start of mankind with a quirky poem about evolution mentioning the that your Grandpa use to be an ape.
Dinosaurs, the food chain, carbohydrates, and the scientific method are just a few of the topics these guys approach. My favorite section is a four part series dedicated to explaining "Why Scientists Don't Write Nursery Rhymes". This is page that gets most of my snickers because that page hits close to home. Here is an example of a poem:
Jack Be Nimble
Jack be nimble,
Jack be quick,
Jack jumped over the combustion reaction of 02+heat+fuel to form CO2+ light + heat + exhaust.
Being married to a scientist, I know that the fun can quickly be quickly sucked out of everything due to logic! My girls and I absolutely enjoy Scieszka'a humor and this book is a wonderful conversation starter to discussing with children the science that we find in the world around us! If you like Science Verse , you should also check out Math Curse
!
Go HERE
 to get them on Amazon. Or better yet, shop local and head to Brazos Bookstore!