See the latest pictures, HERE!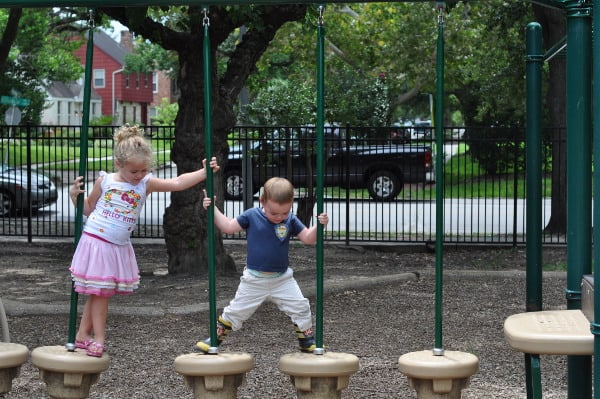 Address:
6000 Greenbriar Dr, Houston, TX 77030
Appropriate Age:
 Any Age
Cost:
 Free
See the latest pictures, HERE!
Roberts Elementary has a giant, fenced in playground that is open to the public when school is not in session. There is a basketball court, bike riding loop, frisbee golf course, several shaded play structures and a funny little octagon that resembles an indoor soccer field.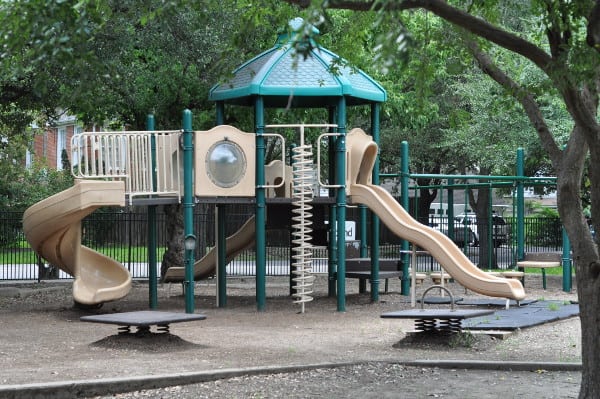 The Spark Park Program
develops school parks into neighborhood parks as a way to increase green space in Houston. Roberts Elementary opens the gates for the community during the summer, after school hours and on the weekends.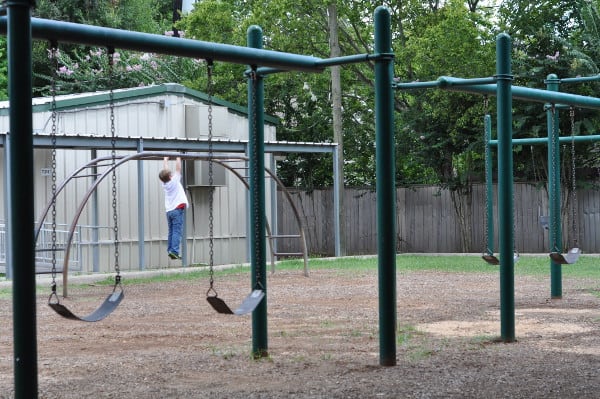 The park is right on busy Greenbriar, but is surrounded by a tall fence and there is no risk of kids running out. Street parking is available around the back of the school, on School Street. Be sure to check the signs because much of the neighborhood, which is full of picture-perfect houses by Rice University and the Medical Center, has permit parking only.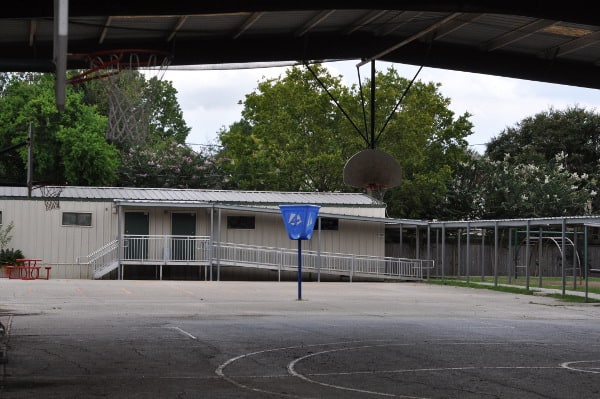 We visited on a Sunday afternoon and there were several families riding bikes, playing ball and swinging. It seemed like a lot of the kids went to Roberts Elementary, but they were very welcoming and invited my kids to play ball.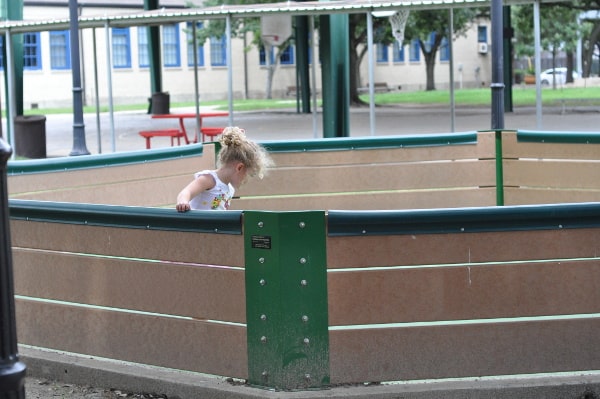 There is a little octagon with turf carpet and short walls where the kids played a mini version of indoor soccer. When I first saw this "play pen" I had no idea what it was for, but the kids figured it out quickly and the ball game was tons of fun with 3-4 players on each team.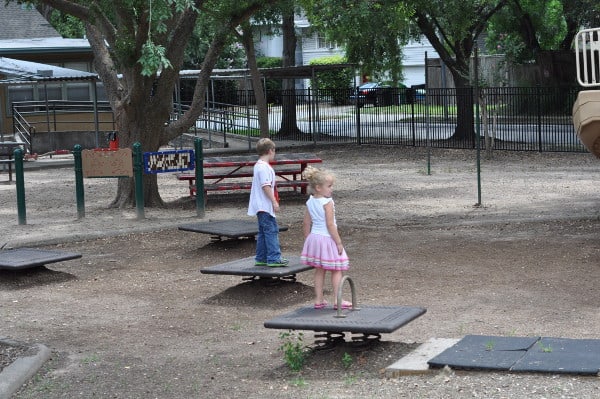 Next to this is a big covered basketball court with several hoops and benches and the traditional play structures. The equipment is certainly well-used and not brand new, but there were a lot of fun things to do. There were monkey bars, slides, spiral ladders, stepping stones, fitness center, wobbly balance beam, swings and more.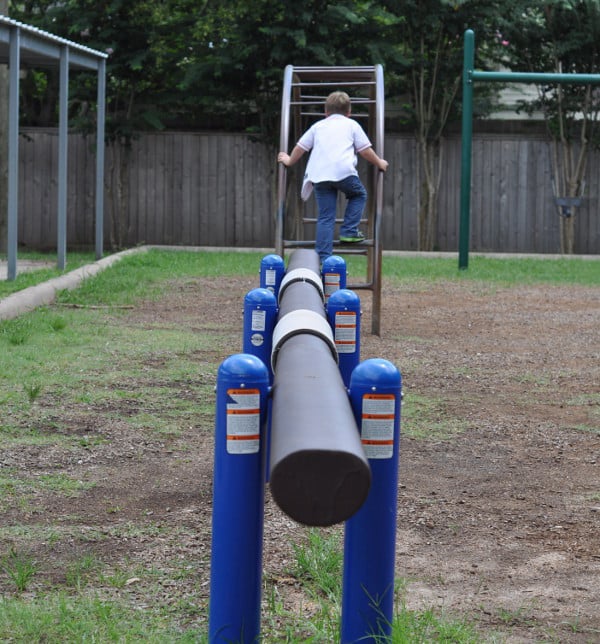 The kids did not notice that the equipment was a little beat up (much like the inside of my house) and played like crazy.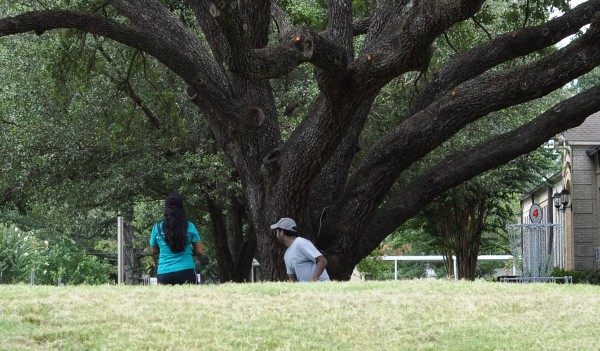 Around the outside of the playground is a giant loop that is perfect for bike riding. Toddlers and big kids could enjoy this big  car-free space for riding. Also along the outside of the park are a series of metal baskets, each with a number on the top. These had me stumped until I saw a couple of teenagers come through with frisbees.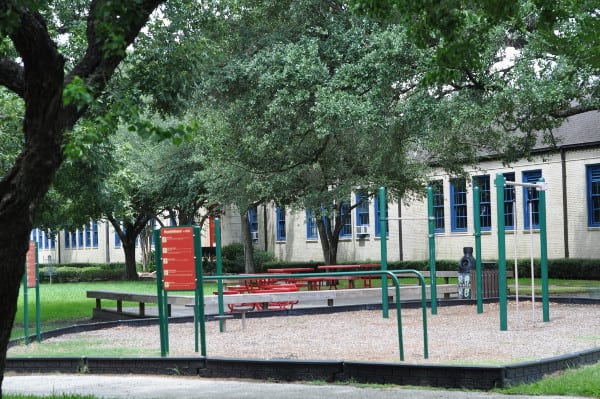 Roberts has its own frisbee golf course! The kids were throwing the frisbees towards each basket and counting the number it took to get in the basket. If you visit this park, bring your frisbee, paper and pencil!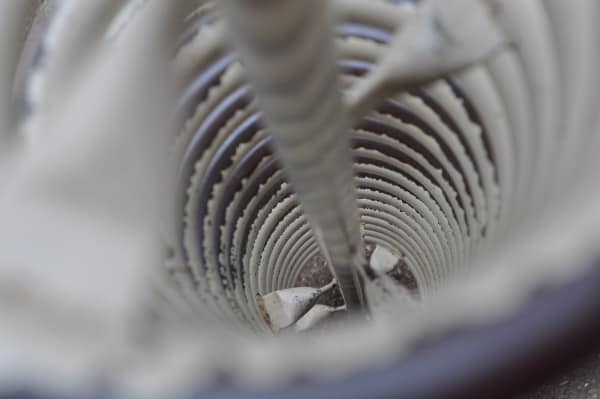 The park does not have a restroom and I did not notice a water fountain. It was thirsty kids that finally got us to head to the car for a drink. (I've since found out that the water fountain is on the outside wall of the school, near the bike racks. Thanks Lucie for the tip!)
If you visit this park, outside of school hours, bring balls, frisbees and bike, or just play on all the equipment. There is a lot of fun to be had at this urban green space.