Address: 6 Locations. We visited the one on Buffalo Speedway.
Hours: Mon-Thur: 11am-10pm · Fri-Sat: 11am-11pm · Sun: 12pm-10pm
Cost: Reasonable
Appropriate Age: Any Age
Our Review: Pizza Fino has 6 Houston locations. We purchased a Living Social Daily Deal for $10 for $20 to Pizza Fino. We decided to check it out at on a weekday at lunch time. As soon as we arrived, we realized that Pizza Fino is more of a carry-out/delivery restaurant rather than a eat-in restaurant. That said, it had 3 small tables and we decided to stick around and feed the starving kids.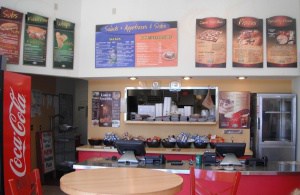 The restaurant was very clean and empty (which is pretty good for us). We ordered the X-Large BBQ Chicken Pizza with BBQ sauce, chicken, mushrooms, red onions, bell peppers & mozzarella for $19.99. We could have picked up plenty of items besides pizza and you can check  out the menu HERE. Drinks were sold by the gallon and can (since it's a carry out place), so we just drank our own water.
The pizza came out in about 10 minutes, and the kids and adults were happy we stuck around. The pizza we very good and very large. The X-large fed 2 adults and 2 kids, for lunch and for dinner.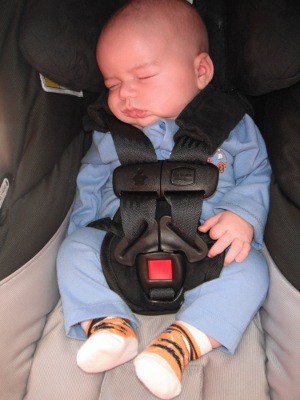 We will check Pizza Fino out again in the future, we'll just order delivery next time. Baby James likes that idea... so he's not stuck in the darn car seat again!