Address: 632 W 19th Street @ Shepherd, Houston, Texas 77009(and in Conroe, Texas)
Our Review:
I had my minivan full of kids and my good friend and navigator got us lost in the Heights. Before I could call her any bad names, we stumbled on
Pie in the Sky
on 19th Street at Shepard. We pulled in to easy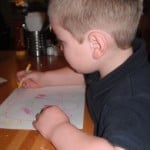 parking in the adjoining lot. It was lunch time on a weekday and the restaurant was busy, but we found a table right away.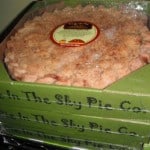 Pie in the Sky started with Marlene Stubler baking pies for her father's service station in Conroe. Since then she opened the Pie in the Sky in Conroe, and more recently in the Heights. The restaurants offer lunch, catering, and, of course, pies!
The Heights location is in an old antique store. It is casual and just a little quirky, making it a great place to spend the lunch hour with kids. There are a lot of items to choose from on the menu. We got the Strawberry Spinach Salad with grilled jerk chicken, strawberries and sweet olive oil sesame seed dressing ($9) and a couple kid's meals ($5). The kid's meals come with chicken tenders, cheese burger, grilled cheese or mac and cheese. It also comes with a small drink, fruit and ice cream.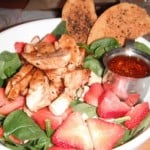 While our food was prepared, our waitress brought over crayons and paper for the kids. Not long after that, the food arrived and I'm pretty sure everyone was jealous of my salad. It was as good as it looked. And, my iced tea was kept full, so I was quickly becoming a fan of Pie in the Sky. The kids were pleased with their grilled cheese, fruit, milk and, of course, the ice cream with chocolate sauce.
After our lunch, we ordered a slice of buttermilk coconut pie ($4.95). I do not usually order pie because I'd rather get a chocolate chip cookie. I'm glad I branched out because this pie was fantastic. It
was hot and fresh and amazing. It sealed the deal on Pie in the Sky. I am a big fan and plan to go back again soon.
I'm sure glad my friend got me lost in the Heights. I plan to take her on every lunch hour drive, just in case she finds us another Houston treasure.