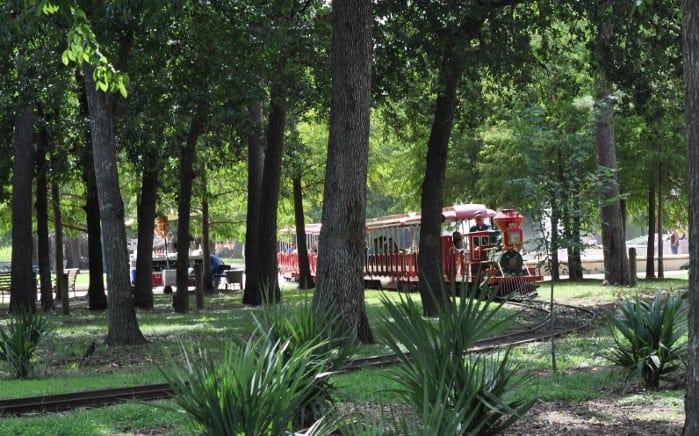 This Saturday, bring your little conductors to the Hermann Park Holiday Party for free face painting, crafts and activities… AND, you can have the opportunity to ride the train for free, as many times as you want, without waiting in line, on THIS Saturday, and EVERY Saturday for a year.
On Saturday, December 13, 2014 from 10:00-2:00pm, join me at the Holiday Party. No reservations are required… just stop by for some fun! While you are there, you can purchase train tickets for the family ($3.25 each)… or you can purchase an Annual Membership for $50.
A family membership is $50 and pays for itself in less than 2 months. Membership includes:
4 Free Train Tickets ($13.00 Value)
1 Pedal Boat Ticket ($10 Value)
Free Monthly Train Rides ($156 for a family of 4. Bigger savings for bigger families!)
This is a value of $179 and it doesn't even capture the value of being able to skip to the front of the line and select the seats you want!  You get to ride for free once a month, and have this fast pass every singe busy day, including summer, holidays and weekends!
More membership benefits include:
Access to the Member Express Line for the train at Kinder Station
10% off merchandise in the Conservancy Gift Shop
10% off orders in Pinewood Cafe
AND your membership supports a fine Houston park. Your $50 keeps the park running smoothly (and keeps it clean and fixes what's broken and provides the perfect urban oasis for Houston).
If you get your family membership at the December 13 (or online), you will get to:
Skip the line on December 13 and every busy day of the week
Ride all day for free on December 13 and every Second Saturday of the month.
Join me at the park on December 13. The activities are free for the kids and I'd love to meet you. Be sure to come see me to say "hello" and grab a little treat for the kids!