Post by Valerie Thompson:
How did I become a professional organizer? Oprah made me do it!
Well, there's a little more to the story than that. I've been organizing since I was a little girl. My first memory of organizing is rearranging my grandmother's pantry at night after she was asleep with my cousin. Now that I think about it we may have driven her a little crazy. After seeing organizing shows on TV, I realized that helping other people get organized was an actual career.
Ever since that discovery, I've dreamed of becoming a professional organizer. I couldn't believe you could actually get paid for something I loved so much I would do for free! But, I had a great job as a corporate interior designer, and it seemed crazy to leave that and start my own business, so I ignored my dream for a long time.
Then, in the fall of 2014, I was at Oprah's Life You Want event here in Houston, and for the first time ever, I wrote down my dream to be a professional organizer. Here's some advice, if you don't want to follow your dreams don't write them down, because after that I just couldn't stop thinking about it. I blame the inspirational atmosphere surrounding Oprah.
In January of 2016, I'd finally had enough of dreaming and starting taking steps to follow this dream, in May I quit my corporate job, and June 1st 2016 I officially launched my company, Chronically Organized. I love that with Chronically Organized, I can combine my design and organizing skills to help people.
I really love helping busy moms tackle their clutter and create more peaceful homes. Kid clutter is a special kind of clutter because it's relentless. They're constantly growing out of clothes, getting new toys, and bringing new masterpieces home. So many moms are drowning in clutter, and it's robbing them of peace and calm in their homes.
I like to think of myself as a personal trainer for my client's home. There are some people, who have the motivation, time, and skills to follow through with an exercise program. I'm not one of those people, the only time I've ever exercised was when I hired a personal trainer.
The same thing applies to organizing, some people have the motivation and skills to do it alone, and some people need a little help. That's where I come in, I coach my clients through the process, teaching new techniques, setting goals, and encouraging them along the way.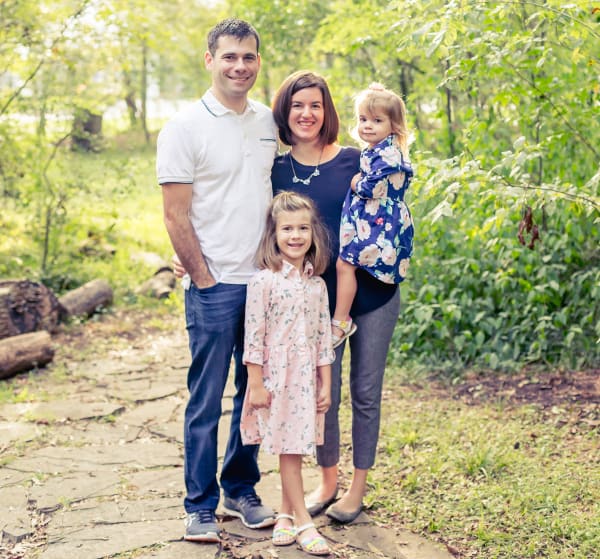 My husband and I grew up and went to college in Louisiana, but have been in Houston over 10 years, so now its home. We love exploring the city with our daughters, Leah (6) and Hailey (2). Some of our favorite places are the Arboretum, The Natural Science Museum, and The Museum of Fine Arts.
I love that my new career gives me the flexibility to pick my girls up from school every day and volunteer at their school. It also gives me the permission to tackle all the organizing projects in my own home (now it's called research!)
With Christmas just past, I thought I'd share my favorite strategies for organizing toys.
1. Limit the Space
The first and most important thing you can do to control toy clutter is decide how much space you're willing to allocate to toys and stick with it. There will always be more toys than space you have to store them, so by first deciding on the amount of space you'll dedicate to toy storage, it can make purging a little easier. When new toys come into the house, some older toys need to leave to stay in the space you have to store them.
2. Permission to Simplify
To keep the kid clutter down we have to believe that our kids don't need every toy under the sun to be happy. We have to give ourselves permission to simplify their environment, because there's always some nagging guilt about getting rid of your kid's toys. There's a lot of anecdotal evidence to support the notion that the less toys children have, the more they will play with them. If you need some additional encouragement, there's a book called affiliate Simplicity Parenting by Kim John Payne, that talks a lot about kids need for less of everything, including toys.
3. Centers/Rotate
I got this idea after noticing how uncluttered my daughter's preschool classroom was. I realized that every week or so they'd rotate what was at each center, so they never had too many toys, but the kids also didn't get tired of the same toys. In our home, I put some toys in the attic and closet, out of reach of the kids, and every few weeks switch those toys out with current ones. My kids love this, it feels like Christmas all over again. They seem to stop seeing the toys they have, and this reignites their joy in them again.
4. Almost Gone
For kids who are a little older, and you're not sure you can just get rid of something without them wanting it later, I use this strategy. Put the toys in the attic or garage, and if they don't ask for them for a few weeks they go to charity. A word to the wise, make sure you have picked up every little piece that goes with a toy, because they'll find that one thing you left behind and it will remind them of it.
5. Gift Control
Stop the excess toys before the come into your home. Encourage birthday party guests to not bring gifts. Give experiences, not toys. That's one of the things I love most about Big Kid Small City, it's all about experiencing Houston with your kids. Encourage family members to give experiences and quality time instead of so much stuff!