Museum Memberships & Local Tickets… What to give Houston families for Christmas!
Every year my mother-in-law asks what we want for Christmas… and it used to be that I did not have a good answer.  There are things we want but that are hard to ship across the country… and lots of things that could be purchased, but we don't have a lot of use for.
Several years ago, she had the idea to send a zoo membership and we used it all year long… and since then, memberships are what I ask for from anyone that asks!
If you are looking to give a gift to a Houston family, here are some great options… plus I've added in some Cyber Monday deals.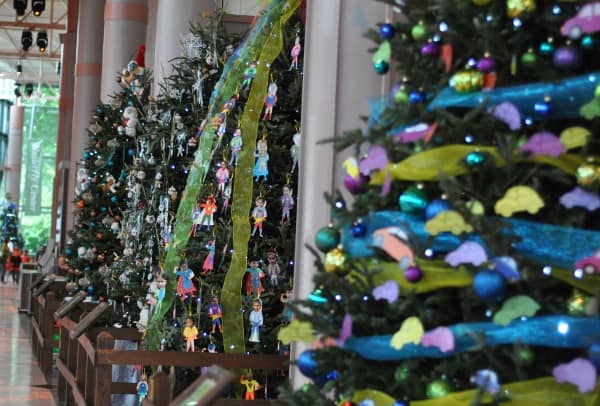 Houston Zoo – $139+/Family
Unlimited free Zoo admission for one full year from your date of purchase and other members-only benefits.  Many local employers get a discount on memberships, so ask about it when you buy.  (ie Last year Marathon employees saved 25% on the membership.)
Hermann Park Conservancy – $50/Family
This is different than the Zoo Membership and supports the park.  Members get to ride the train for free, as many times as they want, on the second Saturday of every month.  Members also get to skip the train line, every day of the year.
Hermann Park Train or Pedal Boat Tickets – $35+ 
Pack of 10 Hermann Park train gift tickets and/or Pack of 5 pedal boat gift tickets.
Hermann Park Engineer for a Day – $150 (For ages 7+)
Best.morning.ever.  Little engineers help open up the train barn, prepare the train and drive it all morning.  See our experience HERE.
Houston Museum of Natural Science _ $115+/Family 
Receive 12 months unlimited admission to permanent exhibit halls at HMNS Hermann Park and HMNS Sugar Land. Also get members-only previews and events and get early and discounted registration for popular camps.
Children's Museum of Houston – $120+/Family.  Monday, November 26, 2017 Only: Get 4 General Admissions + 2 S.E.C.R.E.T. Admissions = $50.  For ages 8 and older, accompanied by an adult.  Missions purchased with promo must be completed by Jan. 7, 2018. Use code CYSPY17
Unlimited free admission for designated number of people per visit for one full year.  Also get members-only benefits.
Health Museum of Houston – $85+/Family.  Winter Sale, Save $20!  Use code 20OFF.
Free admission to the museum and the DeBakey Cell Lab. (The DeBakey Cell Lab is very cool for other kids!)
Houston Fire Museum – $60/Family (Discounts for Fire Fighters)
Unlimited Free Museum Admission for Member and Family.  10% Discount on Gift Shop Purchases.  (There is a great fire station play room for young kids.)
Museum of Fine Arts Houston – $95/Family
Free admission for a year and discounts at the Glassell Art School.  There are a lot of family events during the week (like story time and workshops) and members get free admission.
Houston Arboretum – $75+/Family
Admission to the arboretum is free, but members can get discounts on events and classes, priority registration on camps and free admission ot the popular ArBOOretum Fall Festival.
The Woodlands Children's Museum – $76/Family
Free admission for a year.  This smaller children's museum is for younger kids, 7 and under.
Moody Gardens – $475/Family – Monday, November 27 Only: Individual Annual Membership: $100.00… regularly $140.00.  Family Annual Membership (up to 5 people): $400.00… regularly $475.00.  Use code CYBER
Unlimited free admission to the MG 3D Theater, 4D Special FX Theater, Rainforest Pyramid, Aquarium Pyramid, Discovery Pyramid, SpongeBob SubPants Adventure, Colonel Paddlewheel Boat, Palm Beach (Seasonal) and one entry to the ICE LAND: Ice Sculptures and unlimited entry to Festival of Lights.
Main Street Theater Youth Theater Tickets – $18+/Person or Season Tickets Available.  Monday, November 27, 2017 Only: Save 25% on individual tickets. Use code CYBERMST HERE.
Great shows for families.
Houston Symphony Family Series Tickets– $22+/Person or Season Tickets Available
Great shows for families.
Splashway Waterpark – $80+/Person through Christmas.  Monday, November 27 Only: Use code CYBER to save 25% on individual tickets.
Swim all summer at this great family waterpark.  See our review HERE!
Amazon Prime Membership
Okay, okay, this is not a Houston membership… but it saves me hours at the store (with kids) each week.  For free two day shipping, for a year… and more benefits, get an Amazon Prime Membership (affiliate) HERE!