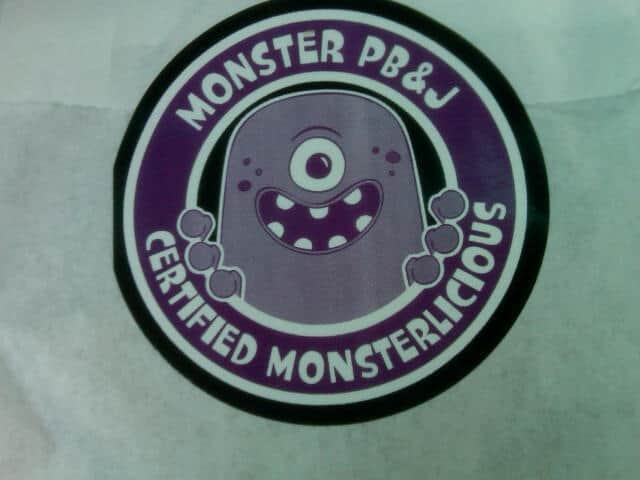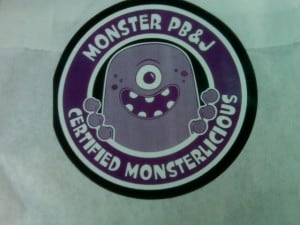 Address:  This food truck moves around the museum district and even drives to Tomball. Find their current location HERE or by calling 1.855.PBJ.LOVE.
Cost:  Reasonable
Appropriate Age:  Any age
Our Review: Foodies we are not, but we do enjoy a lunch time adventure. And, I especially like making a mess in someone else's kitchen.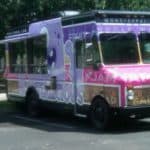 We happened to be driving by The Menil Collection on Thursday at lunch time and noticed the Monster PBJ truck. Drawn to pretty purple truck, we turned off of West Alabama and parked in the large museum lot.
Monster PBJ makes nothing but PBJs, except the "P" actually stands for freshly ground peanut, almond or cashew butter and the "J" stands for locally made blueberry, stawberry or apple jelly or fruit slices. Oh, and I guess it should be Monster PBJSs, because they let you pick a "S" sweetener of agave, honey or Nutella. The menu is all vegetarian and has vegan and gluten free items as well.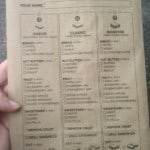 We we walked up to the truck, we grabbed a bag and wrote down our order. Brooke had the junior ($3) with cashew butter, sliced apples, honey and wheat bread. Joe ordered the classic ($5) with peanut butter, blueberry jelly, sliced strawberries, Nutella and wheat bread. My kids weren't interested, but next time around, I'm checking off the "grilled" option.
When we paid, we were told that each sandwich came with a joke. Ours was: Why did the man go to the bank for lunch? He liked rich food. Joe told a joke back and then we waited a few minutes for our food.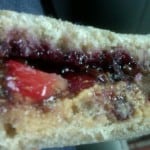 In 5 minutes the kids were back in the car and eating their sandwiches. They gave me two thumbs up but their mouths were too full to tell me what they thought. I was wondering why I just spent $8 on 1.5 PBJs, but given the kid's reaction, the fact that fresh and local ingredients were used, and that my kitchen did not get harmed in the making and eating of lunch, I'm giving them two thumbs up too.