Update: Mission Burrito is under new management... So this review may not longer apply! Go HERE for their website.
Address: Multiple Locations
Cost: Reasonable. Check the MENU.
Appropriate Age: Any age.
Our Review:   We love Mission Burritos. The one at 2245 West Alabama has a great outdoor playground that is mostly shaded.
You order at the counter and the food is prepared quickly while you wait. You can then sit inside or outside at the playground. There are a lot of kid's meal options (burrito, taco, chicken nuggets, nachos, quesadillas) for $4.50-$5.00. All come with a drink and teddy grahams.
My kids always get the burrito, mostly because I like to eat their leftovers and I haven't told them about the other options. I usually get the Veggie burrito for $5.95 and either share it or take half home. It's big.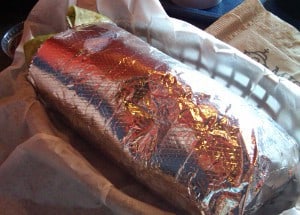 There is a free
rewards program
and I frequently earn free burritos or chips and guacamole. Parking can be tricky at peak hours, so we try to go a little early or late. Still, even at 12:00 on a Saturday, once we are parked, we're always happy to be there.