At BigKidSmallCity, we believe the more we know about the people of Houston, the smaller our city feels. And who better to meet than someone providing medical play, education and support for children with a new diagnosis, upcoming procedure, or fear of going to the doctor or dentist?!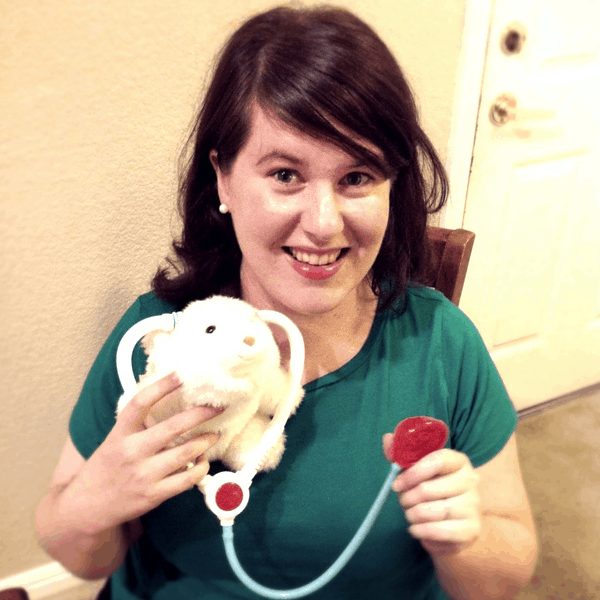 Meet Zoe McCoy of
Powerful Play Child Life Services
! In her own words, she tells us about her family, her business and what she likes about Houston!
I was born in Houston and grew up in Montrose. I was lucky to live so close to the cultural heart of the city and it is still my favorite part of town. My husband, Jeff is also a native Houstonian, fellow HSPVA alum, and we've known each other since childhood.
After several years in North Carolina for undergrad and first jobs, we returned to Houston to pursue graduate school and be closer to our families. I completed a master's in educational psychology from the University of Houston and am now proud to be an adjunct instructor with their human development and family studies program. Jeff graduated from Baylor College of Medicine and is a physician assistant in family medicine. We live near the medical center with our two cats, Violet and Clara.
I am a certified child life specialist and I currently work two days a week in the neonatal intensive care unit of a local hospital. I also have a private practice, Powerful Play, where I provide child life and developmental services to children and families in the Houston area. I blog about my experience as a child life specialist at Prescription for Play.
Child life specialists are trained to use their knowledge of play, development and coping to support children and families facing illness and other stressful life events. Child life specialists complete coursework, train in the hospital, and take a national certification exam before starting practice.
I provide medical play, education and support for children with a new diagnosis, upcoming procedure, or fear of going to the doctor or dentist. I teach coping skills like distraction and deep breathing and can provide therapeutic activities that allow children to express emotions around treatment. Like all child life specialists, I use play to support children's growth and development. I also offer parent coaching in developmental play, infant massage, and sibling support (new baby, child with chronic illness, etc.).
There's a reason we chose to come back to Houston: we love this town! We love the wide variety of international food here and trying new restaurants and cuisines from Vietnamese to Ethiopian to comfort Tex-Mex. We enjoy the cultural life of the city and frequently visit museums, parks, and local attractions. Some of our favorites are picnicking on the lawn at the Menil Collection, going to outdoor movies at Market Square Park, and watching the elephants play at the zoo (especially baby Duncan!).
We love to participate in many of the family friendly events around town. One of my favorites is the Family Zone + Studio at the Museum of Fine Arts on Sundays. They have materials available to create art projects based on a piece from the collection. You can also visit a drawing station and get educational materials about one of the exhibits. It's fun for "kids" of all ages.
It's hard to choose a favorite annual event, but the Greek Festival at Annunciation Orthodox School in October is always fun, and I've attended almost every year since childhood. I love color, texture, and textiles, so I never miss the International Quilt Festival. This spring we attended the Hermann Park Kite Festival and loved it, so we'll be making it an annual tradition too.