At BigKidSmallCity, we believe the more we know about the people of Houston, the smaller our city feels. And who better to meet than a Houston mom that is helping your get outside with your family?!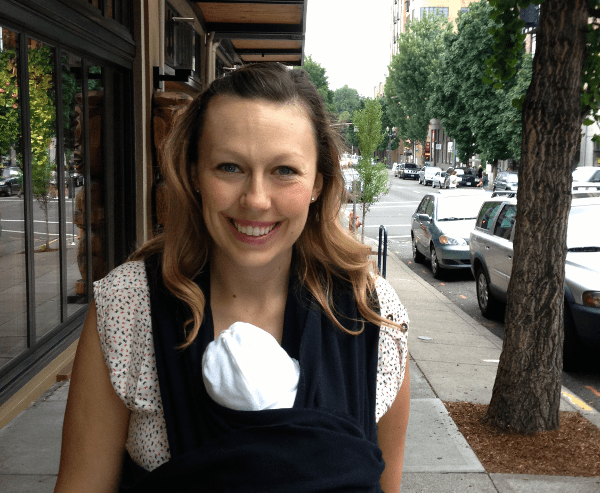 Meet Rachel Klipstein of
Hike it Baby
! In her own words, she tells us about her family, her business and what she loves about Houston.
Hi, my name is Rachel. I'm mom of 1 year old Camille. We moved to Houston last May from Portland, OR and have been busy exploring our new city and meeting friendly Houstonians along the way. We really enjoy being outdoors (moved here the wrong time of year for that!), eating good food, and staying active. Oh, and watching football.
A little over a year ago, when my daughter was first born, we spent hours and hours walking outside since that was the only thing that would sooth her colicky self. A friend that had also had a newborn and liked to walk, invited us to join her on a hike with the group "Hike it Baby". Hike it Baby just became a "thing" in Portland and I didn't know anything about it except that it sounded pretty cool.
When Camille and I showed up for our first hike, I was surprised to see at least 15 other moms and dads and even grandparents there with their babies and toddlers. The hike was extra special because I wasn't worried about slowing other people down, after just having a baby I wasn't in my best form, and I just felt really comfortable in the group with not having to worry about. . . anything.
If someone needed to stop for any reason, we all stopped. It felt awesome to be supported while connecting with other parents in doing an activity we all loved. Just a few weeks ago I noticed that Hike it Baby was in Austin and San Antonio (and a few other TX areas) but not in Houston. After visiting their website, I couldn't believe how many cities Hike it Baby had popped up in.
Feeling nostalgic, I had emailed Shanti Hodges, the founder of Hike it Baby, and talked with her about starting a Houston branch. Shanti's overall vision for Hike it Baby is to get babies and toddlers out into nature as much as possible. She basically said, "Go for it!" I was a little nervous since I don't know the city very well, but then I thought it would be such a great way to tour our city, see the beauty in our city, and connect with other families that have similar interest.
One reason I love Houston is because it is a very family friendly city. Just last week I was at the grocery store and there was a large group of kids painting pumpkins. I remember thinking, "Wow, even the grocery store puts on family events." I love taking advantage of all there is to do in Houston.
Everywhere I go: the grocery store, library, Discovery Green, there's always something special going on for families.
So far, my favorite activity to do with my daughter in Houston is to take her to story time at the library. This has become part of our weekly routine as its fun, free, and in the air conditioning. I am hoping that this winter we will discover many beautiful outdoor spots to explore.
Since we are still new to Houston it's hard to claim a favorite annual event. Although, I really enjoyed the Star Spangled Salute at the Miller Outdoor Theater last July, I am guessing that the Art Car Parade and Children's Festival will become the top of the list once we get to witness them next spring.