At BigKidSmallCity, we believe the more we know about the people of Houston, the smaller our city feels. And who better to meet than Houston Moms that are both bringing 50-90% discounts to Houston parents AND giving them the opportunity to earn extra income?!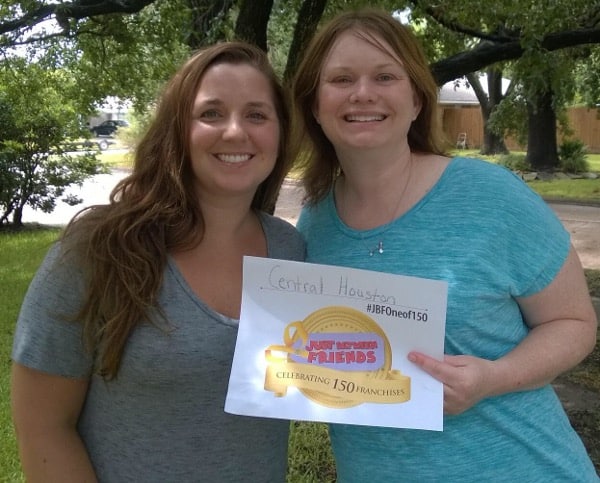 Meet Meghan Peterson and Katrina Ansell of
Just Between Friends, Central Houston
! In their own words, they tell us about their families, their business and what they like about Houston!
Meghan: I am originally from Nederland, TX, which is between Beaumont and Port Arthur. I graduated from Texas A&M in 2002 with a BBA in Marketing and from Houston Baptist University in 2006, with a Master of Arts in Psychology.
I love to travel, and went to Kenya on a mission trip in 2008 with my church. I met my husband David in 2008, and we were married in 2009. Our twins, Flynn and Elissa were born in 2012, and will be three in October.
We stay busy with them, renovating our house, and being involved in the community. We live in the Oak Forest area.
Katrina:  I met my wonderful husband while visiting San Antonio. Soon after he moved to Houston and we married!
We have our precious 15 month old son who is our heart. This is how I came to know and love JBF! I was a new mommy wanting to find bargains for him since I found him outgrowing his things so quickly.
My family and I with our two dogs live in Timbergrove and we are so excited that we are able to bring JBF to the Heights community!
Meghan & Katrina: We purchased JBF-Central Houston in July 2015.
Just Between Friends, a twice annual consignment sale, is North America's leading children's and maternity consignment event. We are bring this sale to Central Houston November 4-7 at Resurrection Metropolitan Community Church on West 11th in the Heights.
At JBF consignment events, local families sell new and gently used items at deeply discounted prices. Shoppers save 50-90% on thousands of items, including children's and maternity clothing, baby equipment, furniture, toys and much more.
We are also the only consignment sale with specially trained recall expert. Every item is inspected to the most up to date records for recalls.
This event helps families save money on high quality clothing and other items twice a year while providing consignors an opportunity to create extra income selling their new and gently used items.
Sign up HERE and like us on Facebook for updates and contests.
Meghan:
My favorite thing about Houston would have to be the people!! I have lived here for thirteen years and feel like Houston is the biggest small town! I love the warmth and friendliness of everyone. I love that we have so much diversity and so many different cultural opportunities in the city.
Katrina:  
Being that I am an Houston implant, originally from Ohio, the first thing about Houston that stuck out to me was the people. I love how kind everyone is and how open to helping and offering information everyone is. I've meet amazing people how are more like family!
Meghan:
We are always on the lookout for things to do! During the summer we love splash pads, especially the one at Jaycee Park!! We love the Colonial Park Pool in West U. I think we spent a day there almost every weekend this summer.
We love to attend events at Discovery Green, story hour at the library, and the Children's Museum. We are also always up for a trip to the Zoo and Herman Park.
Katrina:  
We love our neighborhood. Right now in this heat, we love taking our son to the Jaycee Park splash pad. My son loves chasing after the water! There are wonderful families that go there so it's a lot of fun and great conversation!
Meghan:
Or favorite annual event? That is easy!! I love rodeo time!! I get so excited to get my boots on and go for a great night of music, food, and hanging out with my husband or our friends. I love seeing the excitement on my kids faces as they look at the animals, see the rides, and eat all the crazy combinations of food. I love rodeo time in Houston!!!
Katrina:  
We are huge fans of Lights in the Heights. This year will be extra special since our son will be old enough to enjoy it with us! So looking forward to this event!