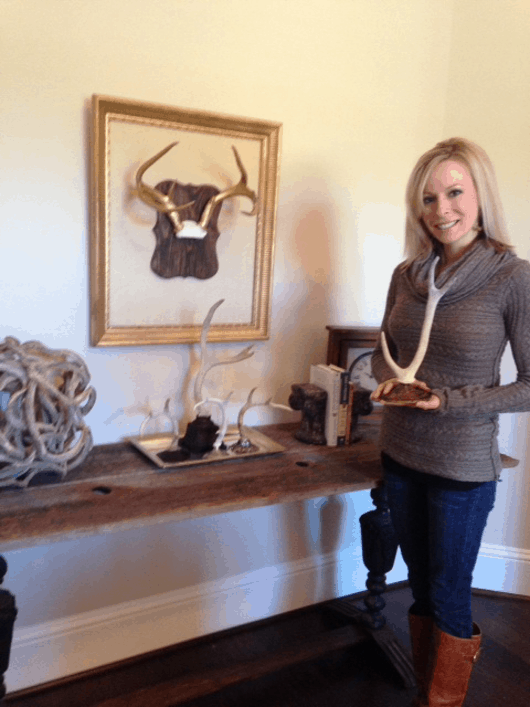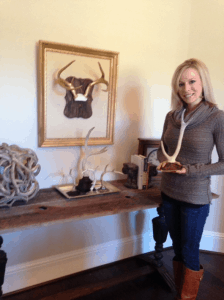 At BigKidSmallCity, we believe the more we know about the people of Houston, the smaller our city feels. And who better to meet than a Houston mom that has started her own business making unique interior design items.
Meet Leslie Hunt, a busy stay at home mom of a 3 year old boy and 11-month-old little girl. She just moved from the city to Fulshear with her husband, Dustin, and children.
 In her own words, here is  a little about Grace Grey Designs and what Leslie likes about Houston! 
I started my business, Grace Grey Designs (my kiddos middle names), to make a little extra money to use to decorate my own home! I have always had a love for interior design and an eye for a bargain. Combine those, and GGD was born!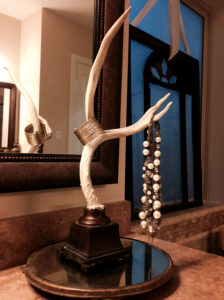 I love shopping at little roadside shops in small towns and have found some really cool, unique items. I also enjoy creating things like my Deer Antler Jewelry Holders and Framed Antlers. Luckily for my customers, I can't keep EVERYTHING I find or make! I have a Facebook page and will soon have an Etsy store, so check me out!
My favorite thing about Houston is the endless choices of things to do! It is so rich in culture and close to the beach and country so no matter what you enjoy doing, there's something for you!
We are very outdoorsy so we love all the farms around town! We frequent Old McDonald's Farm, Dewberry, and have recently discovered Blessington Farms, which is literally right down the road from us!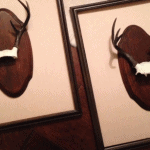 We are also zoo members and always enjoy a trip there and ALWAYS have to ride the train!
We are a very young family so are limited as to what the kids will actually sit through, but so far our favorite annual event and family tradition is going to Dewberry Farms to cut down a Christmas tree! Admission is free and includes a hay ride, and many of the other rides/attractions are open for a fee. It's a great time for families with kids of all ages!