At BigKidSmallCity, we believe the more we know about the people of Houston, the smaller our city feels. And who better to meet than a Houston Mom with No Excuses?!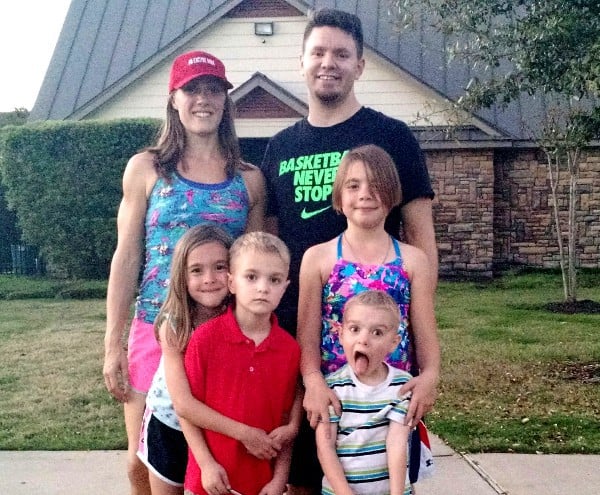 Meet Laura Gettman of
No Excuse Mom
! In her own words, she tells us about her family, her No Excuse Mom group and what she loves about Houston.
My husband and I have been married almost 10 years and have four children, two girls and two boys. We moved to Houston from Oregon 2 ½ years ago. As a young family, I have been a stay-at-home mom while my children have been home.
My husband has been a full time student and the past 3 years a high school science teacher. I am also looking to begin my own teaching career next year as my youngest has reached school age.
We love to travel and go on adventures, whether that means driving back to Oregon to visit family over the summer, driving to Florida to visit Grandma for Christmas break, or roaming around Houston and surrounding areas.
Spontaneity is a natural part of life for us, and we can often be found packing up for an impromptu day out, especially on the weekends.
I began a No Excuse Mom group back in August of 2014. I had been following the No Excuse Mom movement for just over a year and was inspired to start a local chapter of No Excuse Mom groups after reading posts on the No Excuse Mom Facebook page from all over the United States.
In Houston, when I looked into beginning, there were already two groups established. One was up in Cypress and the other over in SE Houston. Because of the long drive to meet with either of the groups, I began the SW Houston group.
My main reason to begin such a group is because I was already working out on my own at home and felt that I would love to have the chance to work out with other people. If I could help encourage and motivate other people to create a healthy lifestyle, I could also learn a lot from those that joined.
Our SW Houston No Excuse Mom group meets Monday-Friday at various times. Our weekly schedule and locations are posted in our No Excuse Mom SW Houston Facebook page. At our workouts we do a total body workout, HIIT style, or Zumba. We meet at places where anyone can bring their children along and the group is free. While sweating together, we also get to chat about life, laughing and connecting over stories and tips shared.
We have found that Houston has so much to offer. Before moving here I read as much as I could from articles and blogs about what it was like to live in Houston. I was happy to find that the negative comments such as "Houston is just a large block of cement," "Houston is not pretty to look at," and "There is no fresh air in Houston," are not true. We have found quite the contrary as we have explored the city. My favorite thing about Houston is the large variety of food to try, expanding our palates and introducing us to many more cuisines to bring home to try in our own kitchen.
Our favorite thing to do with the kids is to be outside. We spend a lot of time in our front yard but love it more when we can get in the car and go explore. We have been to many different water spots to stay cool in the hot months, invested in a Zoo membership and constantly referred to BigKidLittleCity.com for more ideas.
The two spots we have loved the most so far was hiking down at Brazos Bend State Park and going to the Showboat Drive-in up in Hockley. The scenery in Houston is very different than Oregon, but has so much of its own characteristics to marvel at.
Being still somewhat new to Houston, we have been looking for an annual event to make tradition. We love Zoobilee time at the Houston Zoo, Mardi Gras out in Galveston and the Houston Rodeo but our favorite annual event so far is the AIA Sandcastle building competition in Galveston held at the end of May.