At BigKidSmallCity, we believe the more we know about the people of Houston, the smaller our city feels. And who better to meet than someone who has compiled a directory of everything baby for all Houston parents?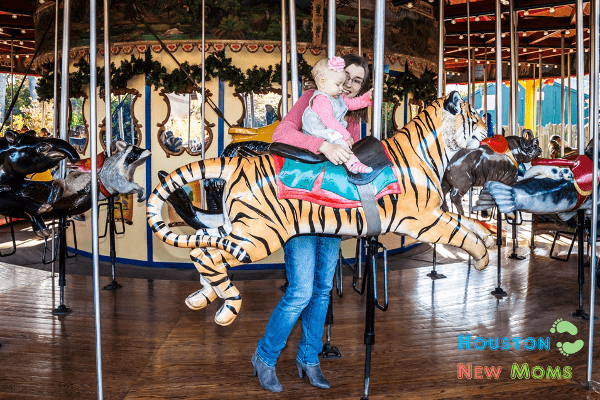 Meet Katerina of
HoustonNewMoms.com
! In her own words, she tells us about her resource for new Houston moms!
Once upon a time (or, to be more precise, September 2014), my husband and I moved from New York City to Houston. I was newly pregnant and totally clueless. I'd heard from friends that Houston was a city of very large houses and even larger traffic jams - and that was the extent of my knowledge about our new hometown.
As soon as our boxes had been unloaded, I started exploring. I was ecstatic to learn that Houston was about 1000x more fun than East-Coasters might lead you to believe. We discovered unique restaurants, excellent local theater, and plenty of thoughtfully-developed green space. Eventually, I also found my pregnancy groove - a great OB-GYN, prenatal yoga classes, and the nearest place to fill my frequent Oreo cravings.
Just as I was getting comfortable, though, my daughter Lana arrived, and I was back to square one. Where to find a scale to check if my 2nd-percentile newborn was gaining weight? How could I meet other moms with babies the same age? What kind of support was out there to help with my sputtering attempts to breastfeed? When I was up to venturing out into the world, where could Lana and I go?
Motherhood was like moving to a new city all over again...but with three times as many questions. And now, I was doing my research in between cluster feedings and diaper changes. I found some great sites for Houston families, but most didn't quite apply to babies. So instead, I gathered resources one by one, relying on Googling, phone calls, and interrogating all the new moms I met.
As Lana took pity on me and started sleeping for longer than three hours at a time, I came out of my sleep-deprived haze and had an idea. Wouldn't it be wonderful if new moms in Houston had a directory of everything they might need in one place? An up-to-date list of social groups, baby-friendly places and activities, health/safety information, and more. A free site that didn't listed all helpful resources, not just businesses that had paid to be included. And thus Houston New Moms was born.
...or, at least, the concept of Houston New Moms. It took a few more months for me to organize all my notes, fact-check the details, and wrestle with HTML to actually build the site. What really kept me motivated is consistently witnessing the need for a resource like this. By this point, I had largely figured out the new mom landscape for myself. But every week, I'd meet someone who had no idea what Hike It Baby was...or where she could take her 6-month-old for swim classes...or how to buy and sell secondhand baby gear locally. Every time I answered a question or shared an idea, I got excited about my project all over again.
In January 2016, I officially launched Houston New Moms, as well as an accompanying Facebook page where I share updates about new additions to the site.
Over the past few weeks, I've heard so much great feedback about Houston New Moms from my friends, acquaintances, and even total strangers. I am so excited to be able to make life a little easier for other Houston parents, and am continuing to add more pages, listings and features to the site whenever I have a minute.
If you're a mom of a baby or toddler, hop on over to Houston New Moms and take a look at the places, groups, and other resources I've put together. And after you check it out, let me know what you think! I love getting feedback from other moms - suggestions, questions, even complaints all help me make the site better!