At BigKidSmallCity, we believe the more we know about the people of Houston, the smaller our city feels. And who better to meet than a Houston Grandma and Dog's (and Cat's) Best Friend?!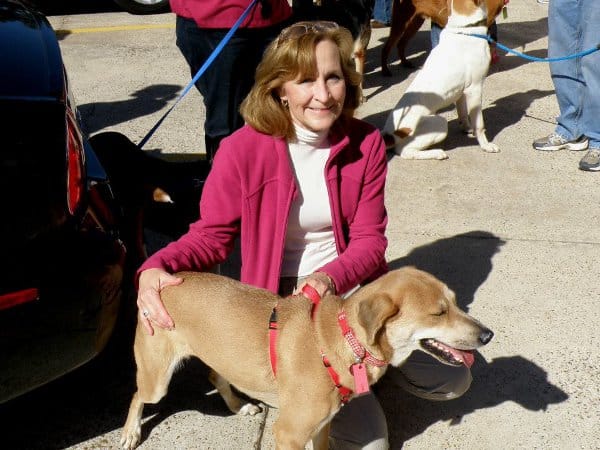 Meet Cherie Vanis of
Operations Pets Alive
! In her own words, she tells us about her family and her Houston organization!
My story is considerably different than the ones usually posted on BigKidSmallCity. I don't own my own business. I am not young with a household full of small children. I am a grandmother with five grandchildren who I adore!
I work in my gardens and always hope for a prettier one next year. I read and always have a list of books waiting for a spare moment. A good deal of my time is spent volunteering for a very special group... I am a member of the Operation Pets Alive rescue organization.
Our homeless animal population in Houston is atrocious with a human population unwilling or unable to spay/neuter their animals. The consequence is shelters overflowing and euthanasia at astronomical rates. If you've never walked through a shelter, it is eye-opening.
Operation Pets Alive goes into the Montgomery County Shelter in The Woodlands where the euthanasia rate is 50% for dogs and 70% for cats. We assess dogs for several days, then pull them for transport to Massachusetts and New Hampshire.
We have no facility. We have fosters who care for the dogs for two weeks before beginning their journey to their new forever homes. In the past ten days, we have pulled 93 dogs and kittens for our transport/local adoption programs.
Our programs include:
Pups on Trucks – We put as many as 50 dogs at a time on a semi-truck, decked out to hold well over 100. The truck has ventilation, cooling and the dogs are fed and walked multiple times on their trip.
Flight for Life – We have ties with a private plane as well as a small corporate jet to take small dogs and puppies to the northeast.
TRN – We go into feral colonies of cats, trap each one, spay/neuter, and return to the colony. The cats can live out their lives without reproducing.
Targeted Spay/Neuter – We go into low-income areas and offer spay/neuters at a free or reduced rate.
Local Adoption – We have as many as six local adoption offsites each weekend for families to find their new best friends.
Operation Pets Alive is an all volunteer 501(c)3 and rely totally on donations. OPA has many opportunities for volunteers -- fosters, data entry people, crafters, offsite coordinators, assessment, and many more. Please look at our website, our Facebook page and remember, "Adopt – Don't Shop".
We were pleased to be named one of CNN's "Most Worthy Causes" last week. Please check out this video HERE!