At BigKidSmallCity, we believe the more we know about the people of Houston, the smaller our city feels. And who better to meet than Houston Mom and founder of Linked with Liam?!
Linked with Liam was founded to honor the life of Carli and Christian Webb's son, Liam Webb, who passed away after a courageous battle with brain cancer, on November 23, 2013, at only 4 years old. Linked with Liam was founded not only to honor his life, but to help other families faced with similar life threatening situations.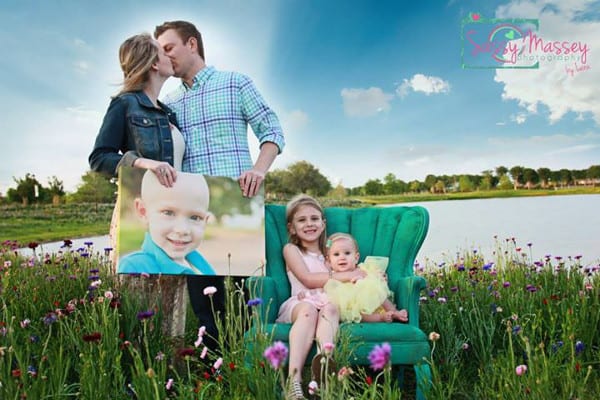 In her own words, Carli tells us about her family, the foundation, and Houston.
We started our family in Salt Lake City, Utah. Both Kennedy, 6, and Liam, forever 4, were born there. We lived in a tiny little house with a huge garden and an apricot tree out back. We moved to Houston, TX in 2011 where my husband was able to get a great job.
We found out that I was pregnant with our little Presley, 1, on Liam's 3rd birthday. I was so excited to add another member to our already fun family. In April, 2013, when I was 7 months pregnant, we found out that Liam had his brain tumor.
Bringing Presley into the world was the biggest blessing for our family. She has given us so much hope and a reason to smile after our horrible loss. Kennedy misses her brother so much, but she finds some solace in her horseback riding and playing with her baby sister. I am a stay at home mom and work full time now on Liam's foundation.
Linked with Liam is a wonderful foundation with many programs to not only help the children going through cancer treatment, but the whole family.
We offer Warrior Packs which includes a backpack full of fun things to do while a child in hospitalized! We pack it full of window markers, play doh craft sets, books, toys and recently, a special blanket! We hope that these warrior packs let kids know that they are NEVER fighting alone and that they are BRAVE and STRONG, just like Liam.
Our Catch a Dream program offers Dream Catchers for kids to hang on their IV poles as well as above their beds to catch all of the bad dreams and negative energy, leaving room for positive and hopeful thoughts.
Our Helping Hearts and Hands program is geared towards the families who need financial help. Whether they are having a hard time paying for thier utilities, their house payment or medical bills, we are here to help get them back on their feet. All they need to do is head over to the website, www.linkedwithliam.org, and fill out an application for any of these programs. Anyone can donate to any of these programs if they feel so inclined!
In Houston, I like that there is so much to do and that there are so many friendly people! When we first moved here, my husband commented that everyone always talked to him! People walking down the street will say "God bless", and that is such a great thing! I feel like even though Houston is so huge, we have such a great feeling of community. People are really kind and generous in this city.
We love to do so many things! Kennedy loves to go to Old Town Spring. She likes the shops and the food and the old buildings. Liam always loved the Downtown Aquarium as well as the Katy train depot and train park. He also LOVED swimming at Bridegeland pool with is grammy. We actually have a summer bucket list of things to do this summer which include attending the Children's museum, local splash pads and community libraries.
We have not been to many events in Houston yet. With Liam being sick and having a small baby, we have not been able to get out a lot. We did enjoy the ice sculpture event at Discovery Green that was fun for all of us! There was music, tons of food and a great park that the kids really enjoyed.
My new FAVORITE annual event will be Liam's Birthday Carnival which will be in Bridegeland on September 27th. We will have carnival games, carnival food, live music, a silent auction, face painting and a balloon release. I am looking forward to celebrating Liam's life in this way every year!