At BigKidSmallCity, we believe the more we know about the people of Houston, the smaller our city feels. And who better to meet than a Houston woman that Handmade Art and Design Company that hosts festivals and teaches workshops... including free kids workshops all summer long!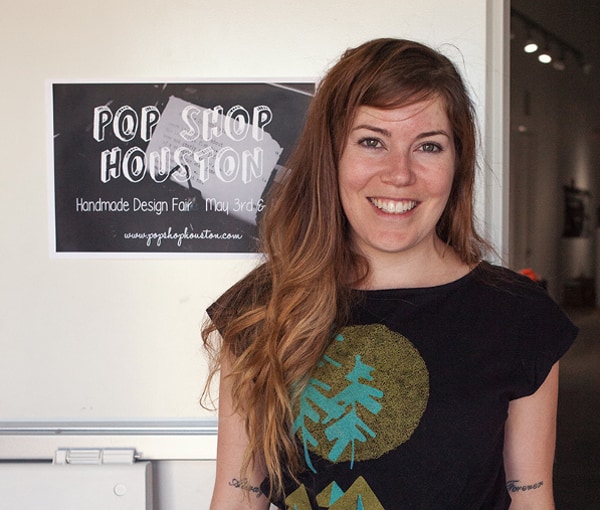 Meet Brittany Bly of
Pop Shop America
! In her own words, she tells us about her family, her business and what she likes about Houston!
I'm very family oriented. My immediately family in Houston is my Mom, Dad, Bro, Boyfriend, and a zoo! I have 2 dogs and 2 cats that are all best friends. Seriously, one of the cats loves to play with the dogs. They are all rescues that have their own cute little story of how they ended up in my life. The dogs are really good with kids. I wish I could take them to our craft workshops. But then we wouldn't get any crafting done!
Pop Shop is a Handmade Art and Design Company that hosts festivals and teaches workshops. We teach regularly at the Houston Public Libraries and we even teach private events like bridal showers and kids birthday parties. We think creating art and design goods is fun and that everyone is a maker!
We have free workshops all summer long at various HPL branches around Houston. I work in collaboration with a makerspace called TX/RX Labs. In 2016, we'll be hosting concurrent Summer Craft Camp for Kids. TX/RX specializes in tech and things like 3d printing where Pop Shop is more about art. We think that having these programs together could be a good way for people to focus on art or tech but still have access to both.
I love the diversity of Houston. I love that you can get really authentic tacos down the street from where the ballet performs. We have a world class opera, a waterpark, and lots of free places like the Miller Outdoor Theater. Houston is hard to figure out if you are new, but has endless possibilities of fun places to go. That's what so cool about Big Kid, Small City. I also like 365 Things to Do in Houston blog for finding out about Houston events.
I love learning and having fun at the same time. So I have 3 favorite places to hang with kids - the library, The Children's Museum, and TX/RX Labs the makerspace that we collaborate with. I love that the library is free and that they host so many ongoing programs. If you go to your local branch be sure to check the calendar of programs that the keep near checkout. The quality of the workshops are amazing and they are always free. The Children's Museum recently started a makerspace where kids can work hands on with interesting STEAM projects. When I met the organizers of this space for the first time, I was really impressed with their dedication to hands of learning.
Fashion Camp and Girls Rock Camp are my favorite annual events!!! These are both kids day camps that take place during the summer and so arty and niche. The organizers of these camps are so fun and nice. They're people that I know socially.
Fashion Camp is a day camp run by Dawn Bell in which students get to create mood boards and sketches and get to learn from industry professionals like Chloe Dao and David Peck. There are lessons on millinery, vintage and more.
Girls Rock Camp is a girls only day camp that takes place at MECA every summer. It's very affordable, because it's a non-profit, and it promotes Female Musicianship. Last year, Pop Shop got to teach the kids how to make their own band t shirts. When we were there Zahira Gutierrez from Wild Moccasins was camp coaching as well as Jana Hunter from Lower Dens.