At BigKidSmallCity, we believe the more we know about the people of Houston, the smaller our city feels. And who better to meet than a local mom that was dubbed the Pinspired Mom by those that know her best?!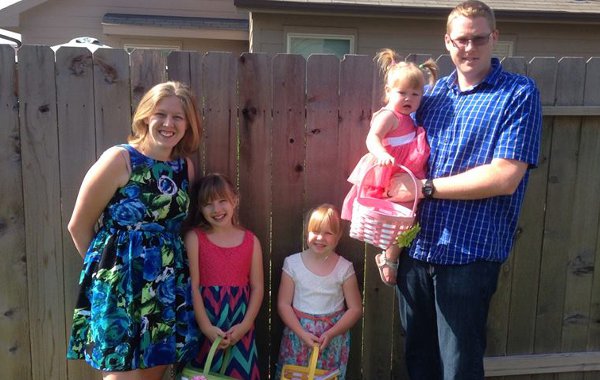 Meet
BreAnne Lee
of
The Pinspired Mom
! In her own words, she tells us about her family, her page and what she likes about Houston!
I am 27 years old, married to my best friend for the last 6 ½ years, and have three beautiful daughters. We are originally from Colorado and moved to the Houston area 2 years ago due to my husband being relocated for work (within the oilfield of course! lol). I am a stay at home mom to my daughters. I have one getting ready to start 4th grade, one entering Kindergarten, and an almost 2 year old.
My friends started calling me the Pinspired Mom due to the amount of things I do and try that originate on Pinterest. So, I began a blog highlighting my success and fails of both my Pinterest projects and my journey through motherhood. I did like most bloggers do and added accounts to all the social media platforms to help support my writing (Facebook, Instagram, Twitter). I was semi-successful on the blogging circuit but came to the conclusion that most of my followers were on Facebook. And most were like me in that they simply scrolled through their newsfeeds, clicking like, or occasionally making a comment here and there. Hardly anyone (myself included) would click through to the link of my blog or any blog for that matter.
We live in a world of instant gratification and having to click through and read didn't fit the bill for my followers, so I have become strictly a "social media blogger". (I have no idea if that's a real thing lol) I post all of my thoughts, Pinspiration, ideas, projects, outings, etc straight to Facebook or Instagram and occasionally to twitter. I have gained more followers this way and have more interactions than I ever did before on my blog site. I try to add a little bit of mommy humor and I always try to relate with my followers. Being a mother is hard work, so its nice laugh at the hard times and to know that you're not alone.
Houston is quite the change compared to small town Colorado. We have so many opportunities here for learning and fun. Never in my life have I ever considered buying an annual pass to a zoo or museum, but now we own passes to both! For me, its like every weekend is a mini vacation. We have lived here for almost 2 years and still haven't seen or done everything we want to.
We live right on the edge of Spring, Tomball, and the Woodlands. Because of this we are able to enjoy lots of fun activities in all three areas without having to travel too far. The different activities that Tomball puts on are definitely some of our favorites. It seems like they always have some type of fun activity or street party going on. Of course, The Woodlands offers lots of fun as well ranging from great pools and splashpads to their very own Children's Museum. And Old Town Spring has great shops and restaurants.
Our favorite annual event is the Rodeo!!! We absolutely love when its Rodeo time in Houston! Especially when we get to see the Trail Riders come through!!