Address: 619 West 9th St, Houston, Tx. 77007 (corner of Waverly)
Hours: See WEBSITE for classes
Cost: Reasonable (Not super cheap, but worth the money)
Appropriate Age: 2+
Our Review:   We've attended a couple of classes at McCheek's Academy. The most recent was the Holiday Workshop for kids. McCheek's Academy is easy to get to in the Heights. Just know that the 600 block of E. 9th is different than the 600 block of 9th. So if you are coming up Heights Blvd, make a left instead of a right. The kids and I are now very familiar with 9th Street!
You will know when you get to the right place, because right across the street is a big funky galvanized steal wall with lots of steal art on top. Parking for McCheek's is easy and right in front of the studio. Inside the studio has exposed studs and is still being finished, but has all you need including ac/heat and bathroom.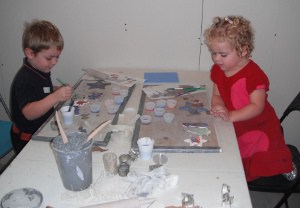 The cost for the class was $30 per child. I think this is reasonable for one child but can really add up for 2 kids (and someday 3 kids!). That said, this is not the Mad Potter when you are just painting pre-made ceramics. Here the kids are working with wet clay, shaping it and painting it with one on one instruction.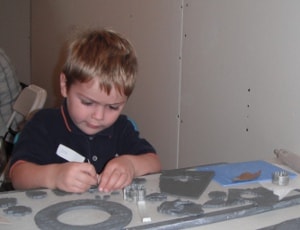 Both Brooke (2 years) and Joe (4 years) really enjoyed the 1.5 hour class. It was just enough time to finish a wreath and 4 ornaments. The kids were getting antsy just at the end.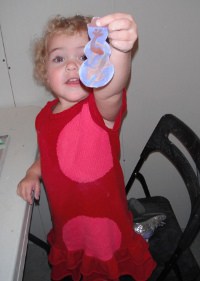 Brooke made a beautiful butterfly Christmas wreath. (Butterflies are so in this Christmas, right?) Joe made a leaf wreath. The leaves have holes because the caterpillars were eating them. As goofy as they may be, I'm excited to pick up the finished pieces of art in two weeks.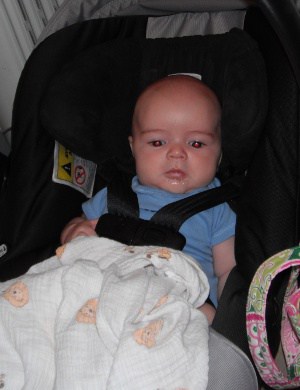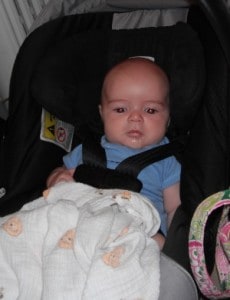 If you are keeping track, James was along for the ride and was awake for the sometimes-messy fun.
McCheek's offers classes throughout the year for kids and adults. Go HERE to see what is available. Maybe I'll go to the next class to see if an artist is hidden in me somewhere. You can bring wine to Clay and Cabernet, so that can only help my work!