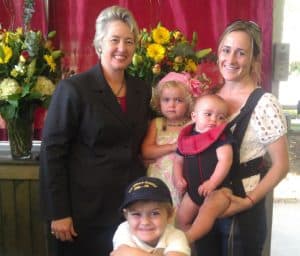 During this election season, BigKidSmallCity is getting to know the candidates in the City of Houston election. Our goal in our non-partisan, non-political research is to help Houston kids better understand the political process.
This is not for political purposes or endorsement. This is however, for kids. Aylen (7), Joe (6), Senia (5) and Brooke (4) created the questions and I edited for clarity. Below is the interview with Mayor Annise Parker , Incumbent Candidate for Houston Mayor!
***
1. What does the Mayor do?
The Mayor is the highest elected official in city government. In Houston she performs both the ceremonial duties of the head of government—greeting visiting diplomats and visiting heads of government—and she runs the City. She oversees all the departments—from the Fire and Police Departments to the Solid Waste Department which picks up trash to the Public Works and Engineering Department which fills potholes in the streets. She presides at City Council meetings and decides what goes on the agenda for City Council to vote on.
2. What do you do to get elected?
The most important thing I do to get elected is take care of the city and try to make it a safer, more environmentally conscious, cleaner, fun city in which to live. I also run an election campaign in which I try to meet as many Houstonians as possible and tell them why I am qualified to be Mayor. I spend a lot of time explaining all my experience working as a neighborhood activist, as a City Council Member, as City Controller and for the last three and a half years as Mayor. I explain my hopes and dreams for the City. And I raise money to pay for campaign advertising! I try to persuade the voters to go to the polls and vote for me.
3. What do you like to do in Houston?
I love to walk along Buffalo Bayou, go to baseball, basketball, soccer and football games, play with dogs and cats from the City's animal shelter/BARC and go to the zoo. I love to work in my garden and to read, curled up on my couch at home. I also love to drive the big machinery that tears down dangerous buildings.
4. What is your favorite thing about Houston?
My favorite place is my own home. The best thing about Houston is the wonderful people here from all over the world.
5. What is your favorite Houston annual event?
I have several favorite events, including the Fourth of July celebration at Eleanor Tinsley Park, the Art Car Parade, and the Holiday Show in December.
***
For kid-friendly reviews of the Houston City Elections, go HERE.
If you are a candidate and have not filled out a questionnaire or set up a meeting, please contact me at Jill @ BigKidSmallCity.com.