When I was a kid, my mom would fill a big brown paper bag with popcorn, drizzle with a hot brown sugar mixture... and shake! She has an old hand written recipe from my kindergarten teacher, and has always made caramel corn this way.
So, when our sponsor, Imperial Sugar, asked me to make a recipe from Kids in the Kitchen, I chose Grinch Popcorn... but said I was going to do it my mom's way.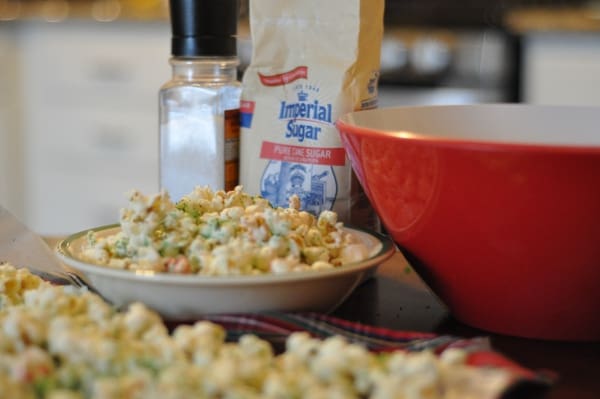 On Kids in the Kitchen, Grinch Popcorn is made on the stove in a Dutch oven. That is way too wild for this cook, so we used the
air popper
 and then used all the same ingredients and mixed it all in a brown paper bag.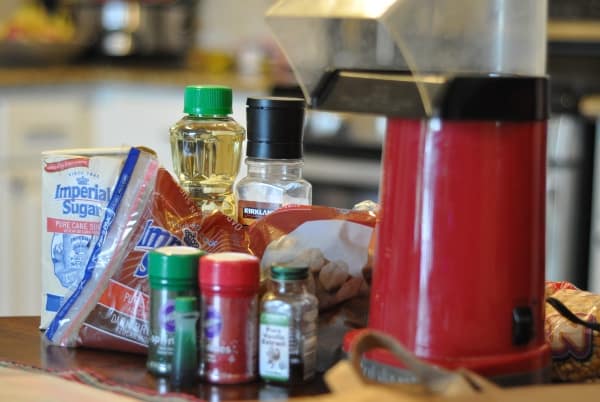 The ingredients are:
Vegetable oil
Popcorn kernels
Imperial Sugar Extra Fine Granulated Sugar
Green Food coloring
Sea salt
Red candy hearts
Red, green, and white nonpareils
Find the full recipe HERE.
The funny thing about making it our "easy" way was that we still had a wild time making it. We burned some sugar, we had some color mishaps and we tripped a breaker in the kitchen.
Just imaging us in the kitchen with windows wide open to the neighborhood. We were all in matching red Christmas pajamas (something that had never happened before), with a baby over one arm and kids with bags of popcorn and sugar sprinkles in containers that were less like salt shakers and more like wide mouth pitchers.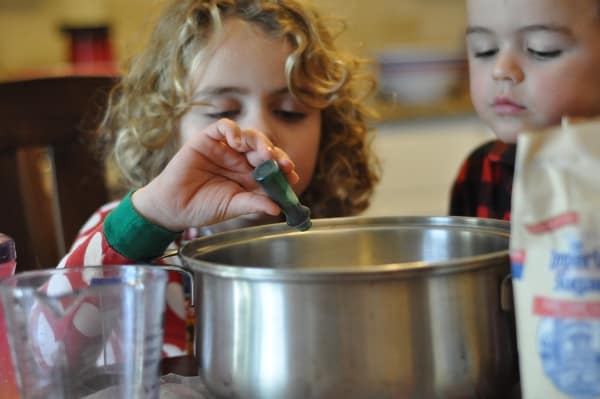 So my 5 year old popped the popcorn, my 7 year old mixed the oil, sugar and coloring, and I burned the topping on the stove. We tried it again and did a little better. (And let me tell you that if you try to make this Grinch Popcorn into caramel corn with brown sugar... the green is a terrible brown... and the kids will squeal.)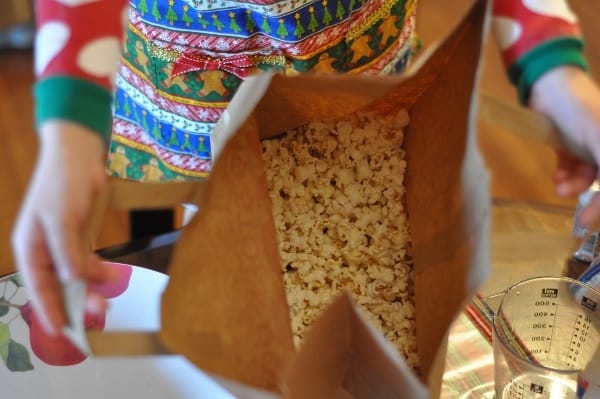 I took the green sugar mixture, poured it in the bag with the popcorn, and the kids shook like crazy!
While it was warm, we poured the popcorn onto wax paper and went crazy with the salt and sprinkles. And we ate it as we went.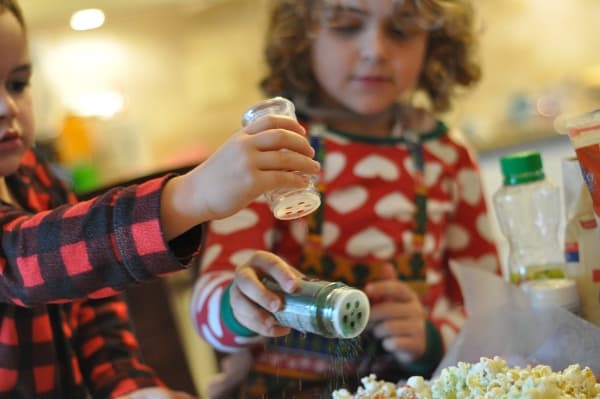 We spent the morning, mixing, burning, squealing over food color mishaps, losing power in the kitchen, making a big sugar mess... and laughing a lot.
The young woman that lives next door kept on walking by the window. At first I think she was shocked to see us all in matching pajamas, acting crazy in the kitchen. By the third trip to her car, she was laughing... and I suspect she wanted to be a part of our holiday family fun.