Each school day I pack my kids a fun lunch. Over the last 3 years, I've made rice balls, sushi, shaped sandwiches, crazy eggs and just about anything I could imagine.
Maybe it's how close we are to winter break, but last weekend I was out of ideas. I told my friend Juliette that I really could not stand to make another week's worth of the same lunch. Being a good mom friend, she first sympathized with me and then suggested pitas and hummus.
And just like that, I was out of my slump and had enough lunch-making-energy to get through the last week before winter break.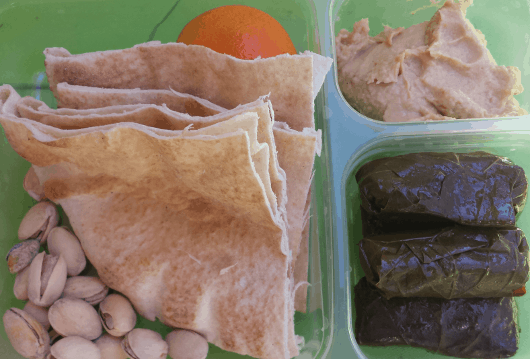 Brooke loves stuffed grape leaves and can eat them by the dozen. At Phoenicia I picked up some from the deli, along with pita bread and hummus. I threw in some pistachios and a clementine and had a really good and really easy lunch.
Now it's time for winter break and I'm going to enjoy two weeks of no-school-lunch-making! And I'll check out Pintrest to get some ideas for January.