I'm Juliette! My husband, my 6-year-old and I love going out to eat and we are sharing our restaurant finds with you.
We are doing a double review of L'Etoile and Becks Prime this week!
Location: 1101 Uptown Park blvd 77056
Age Appropriate:  6 and up
Price: $$$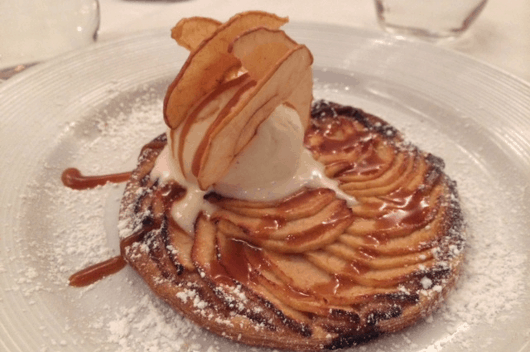 First, L'Etoile, a French restaurant located in Uptown Park. I dined there with a group of friends last weekend and the food was delicious. It is not your typical kid-friendly restaurant even though there were 2 children as I came in.
The decor is warm and luxurious, the lightning is beautiful and there is a wall of stone that is really striking. It is a great choice if you are planning a nice romantic dinner for...say...Valentine's day!
If you have well-behaved children that love French food, please take them, you will all leave happy! As you can see on the picture of their apple pie, it is a feast for the eyes too.
We had a set menu of duck pate, braised beef with butternut squash and dessert. It was succulent, tasty and perfectly seasoned. So, for an unforgettable night for two or a family affair, please try L'Etoile, a first class French restaurant.
And now for Beck's Prime!
Location: 1001 East Memorial Loop Dr. 77007
Age Appropriate: All ages
Price: $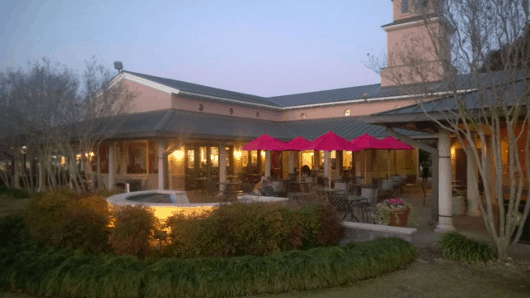 My husband and my son went to Memorial Park and enjoyed a wonderful family friendly dinner at
Becks Prime
. In his own words, he tells us about it!
A Houston tradition, Becks Prime was one of the first upper level quality hamburger places I remember going to as a child – though I always went to the one by the Jungman library.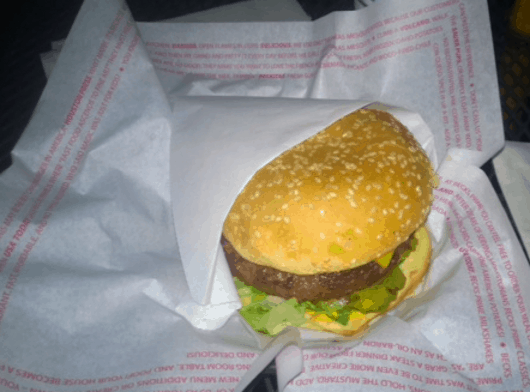 The one at Memorial Park has one of the best patios in Houston I think: a great view of nature and always something to watch. For me, the experience of going to the park with my son and wife, running around the play zone, watching the softball games, flying a kite, hitting the driving range and then eating on that patio is about as good as it gets. The decor is casual and there is a nice bathroom too!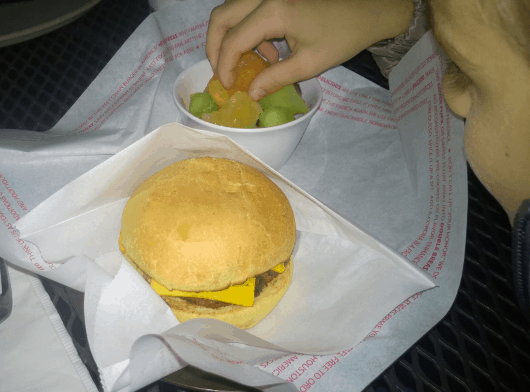 I ordered the bacon-cheeseburger and my son had the kid-size cheeseburger with a fruit bowl. It was a quick, fresh and good quality hamburger and honestly, the combination of the view, the sunset, my son and the food just made this a memorable evening.
I am a trivia man so here is some for you:
Confirmed trivia: There was a camp for soldiers back in World War I where Memorial Park is now (in fact, that is why the Memorial part of the name is significant). It was called Camp Logan, and there are still some concrete structures from the camp that exist today – but apparently you have to know where you're going to find them, because they're back in the woods somewhere next to the bayou…
The land where Memorial Park is located used to be owned by the Hogg family. They owned a lot of land back then, some of which became the River Oaks neighborhood, some of which became Memorial Park, some of which became parts of the Heights and who knows what else. What an important family in Houston's history. Geez.
Unconfirmed triviata: There is some clause in the contract between the Hoggs and the city that allows the Hoggs to take the park back over if certain agreements are violated… not sure about that one – maybe a reader can comment?
See you next week for our next culinary adventure!