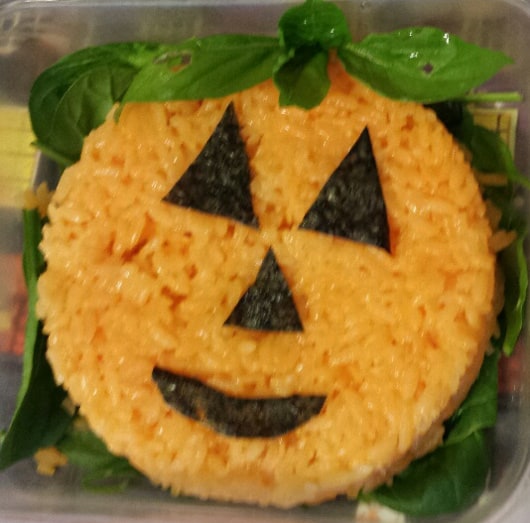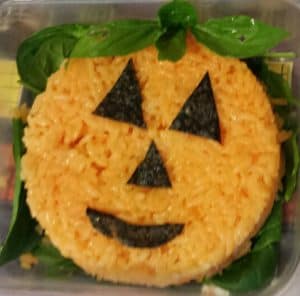 Each school day I make my kids a fun lunch. It started 2 years ago as a way to bribe my son to stay at preschool. We no longer have the same morning complaints, but we do have some tired kids at 6:00am and these lunches are good motivation to get us out the door on time!
I was on business travel for much of this week, but I did manage to make a couple fun Halloween lunches before I left town. The best one was the Jack-O-Lantern rice ball.
For instructions on making a rice ball, go HERE. For this rice ball, I used sushi rice and added a little food coloring to the rice cooker. Usually I use a rice mold to make a shape, but for this one I just wanted a big circle.
So once the rice was ready, I added a little salt and spooned it into a big round lid. (My lid was from a big Costco mixed nut container.)  I pressed the rice flat into the the lid and then gently shook it out into the lunch box. (Tip:  If the rice is too sticky, rinse the mold and spoon with water before making the shape.)
Once I had a big rice circle, I used kitchen scissors to cut nori to make the Jack-O-Lantern face. I added a basil leaf stem and leaf and the rice ball was ready!