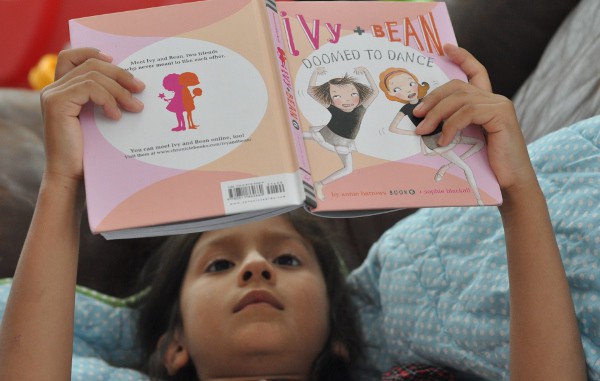 It's
Felicia
and 6 year old Senia! Today's review is of
Ivy & Bean
by Annie Barrows and Sophie Blackall.
Before Bean met Ivy , my six year old did not like to read. After discovering this series, she read Books 1-8 so quickly that her teacher took note and bought her book nine and offered to get her book ten as well! She was as excited as I was. My 6yo can read big words but really has no interest in flipping any pages, which as you can guess, breaks my heart!
Here is Senia's review as to why she loves this series.
"I love to read Ivy and Bean because they are really good and they tell about characters Zuzu and Emma. I like these characters because they are really nice. They have a gymnastics club and Zuzu is the best at doing cartwheels. I like Ivy because she is very kind but sometimes she gets very mad because Nancy, Bean's older sister, is very mean to Bean. I like Bean because she is a good friend to Ivy and they live across from each other. They are lucky to be best friends and live across from each other."
I can totally see why my 6 year old loves this book. Bean and Ivy and best friends, who are a bit naughty and very loyal to each other. Even though they are sometimes just downright rotten to Bean's older sister Nancy, you can't help but love these girls.
I love listening to my daughter laugh out loud or retelling what she has just read as she finishes any of the books in the series about Ivy and Bean. The two girls form a hilarious duo that is usually up to a mischievous adventure in any of their fourteen books.
Adventures include ghost hunting, hiding from Nancy, looking for fossils and not really any princess stuff. Some of their adventures show poor decisions and bad behavior which some parents argue that this is not the appropriate message to send to kids. I think that if you raise your children correctly, books like this are just a fantasy world. This behavior does not work in our house nor does this book encourage this type of delinquency in my six year old.
The only thing that is has encouraged is Senia's reading and her asking every minute if I have bought her the rest of the series. Annie Barrow, keep them coming please!
Go HERE
to get them on Amazon. Or better yet, shop local and head to Brazos Bookstore!