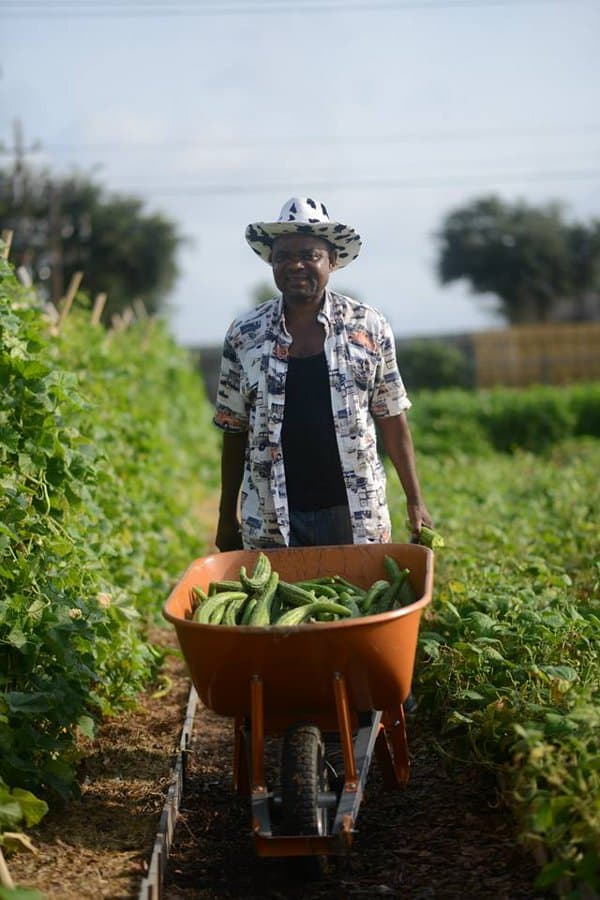 According to
Plant It Forward
, 8 out of 10 Houstonians say locally grown food is important to them... but it's actually not very easy to get. Apparently, even the best stores are labeling produce from El Paso (750 miles away!) as local.
How would you like to get local farm fresh produce from... Houston?! Plant It Forward has this for you... they support refugee farmers, support the local economy, support the development of more local farms AND bring you food that is truly locally grown. See the Plant It Forward story HERE and stay up to date with their Facebook page HERE.
Plant It Forward approached me about these Farm Shares, and I am very very happy to do so.
Their produce is free of chemical pesticides and GMOs, grown with organic practices, and is available at Farm Stands, the Eastside Farmers Market, Imperial Farmers Market … and Farm Shares can be delivered to your neighborhood!
Sign up for Farm Shares to get your share of the in-season produce, delivered to your neighborhood! From my experience, this is the best way to ensure you eat fresh, healthy and local all year... and you are encouraged to try new produce that you may not have purchased on your own. (Like roselle. I would never have purchased roselle at the farmers market!)
The catch is, this is the LAST WEEK to sign up for Farm Shares.  The Plant It Forward Farm Share Program is the best way to keep local produce coming into your diet and the best way to insure a living wage for refugee farmers in Houston. You get 6-8 different varieties of seasonal vegetables each week, enough for a family of 3-5.  Go HERE to sign up.
If you have any questions, you can also contact Kassy, the Farm Share Program Manager, directly!
Kassy Rodriguez, Farm Share Program Manager
Plant It Forward Farms
713-599-8445
kassy@plant-it-forward.org
Cost:
10-week season, July 2015-Sep 2015: $265
25-week season, July 2015-Jan 2016: $625
50-week season, July 2015-June 2015: $1200
(3% discount for paying in full, additional fee applies if paying by credit card, additional delivery fee applies at some locations)
Current pick up locations:
Greenway/Upper Kirby: Urban Harvest Eastside Farmer's Market
Greater Fondren Southwest: Plant It Forward Farm
Sunset Heights: Dr. Allison Blazek's Office
Montrose: Plant It Forward Farm on the University of St. Thomas Campus
Westbury: Westbury Community Garden
Southwest Houston: Plant It Forward Warehouse
Pearland, Pearland Elite Training
Meyerland, Evelyn Rubenstein Jewish Community Center Main Lobby
Meyerland, ERJCC Bertha Alyce School
South Main, St. Catherine's Montessori
Sharpstown, Plant It Forward Farm at St. Paul Presbyterian Church
West University, Local Foods Rice Village
Sugarland, Farmers Market At Imperial
Bridgeway Office, Employees Only
Katy, TX
East End Street Market
Farmers Market On Grand Parkway
Westchase District Farmers Market
So, be sure to check out Plant It Forward, what they are doing in Houston and for Houstonians, and feed your family farm fresh and truly local produce!