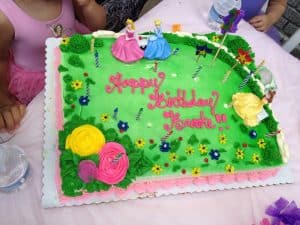 We've entered the birthday season here at BigKidSmallCity. Brooke is about to turn 4 and I am about to turn 30. Which is amazing, because I've been 30 for a few years now. Joe will turn 6 during the summer, followed by James who will turn 2 at the start of the school year.
We are busy planning our parties and are insisting that no one brings a gift.
Why? You know those little games at the arcade where you put in a quarter and then move the claw to pick up a toy? That is what my house looks like. And the claw doesn't work very well.
Unless there is a toy that my kids absolutely love, we cannot fit it in this little house. So instead of gifts, we ask for small donations for charity or an adventure!
For this birthday, Brooke gets to pick the organization that gets the money any of her guests bring to the party. She has decided that she would like all dogs to have nice dog houses… and has selected Operation Pets Alive!
As for my gift to her… we'll plan out a big Houston adventure. I'm not sure what we'll do for someone who loves Hello Kitty, but here is the list of ideas we had a Christmas time…
Modify these to fit your interests and budget. Most classes/events can be replaced with a free alternative… just be creative and get out and have some fun!
For the Fireman:
Set up an obstacle course in your yard and create some "flames" out of poster board. Have your young firefighter climb through the course and then put the flames with the garden hose. Next grab some cookies and head to the local fire station. If they are available, the fireman will often let the kids "drive" the truck. After feeding the firemen, head to the fire museum for an afternoon of playing or to Firehouse Subs for lunch.
Write it up something like... Firemen, grab your gear! There is an emergency in the back yard.  Climb through the obstacle course and put out the pretend fire. Once everyone is safe, grab the cookies from the table and take them to our local fire station. We will feed the firemen before getting our own lunch at Firehouse Subs. Once we have refueled, we will go to the Houston Fire Museum to drive the truck, go down the fire pole and put out even more pretend fires!
For the Train Conductor:
If your train conductor is at least 7 years old, he or she can be a Engineer for a Day at Hermann Park. If not, you can still find plenty of trains in Houston. You can ride METRORail, the Hermann Park train or go out to Hockley for the monthly free train ride. You can also visit Old Town Spring, watch the freight trains go by and eat at the Loose Caboose (a real caboose) or at Puffabelly's (an old train depot).
Write it up something like this…  Train Conductor, grab your hat and pocket watch! We are headed out to find trains in Houston.  After riding the Hermann Park train, we will catch METRORail from the Hermann Park Station and head Downtown. Listen to the announcements and follow the map, because you are in charge of telling us when to get off at Main Street Square. Here we will eat pizza, at Bombay Pizza patio, and watch the trains go by!
For the Pilot:
Take your plane lover to the 1940 Air Terminal Museum near Hobby Airport. Take a picnic lunch with you and eat it at the Hobby Airport Plane Viewing area. Park next to the runway and watch the planes take off and land. (The parking lot, located at the end of Paul B. Koonce Dr., is accessible from Braniff Street by way of Telephone Road or Monroe Street.)
Write it up something like... Calling all Pilots! We will be getting an up close look at airplanes today. After touring the Air Terminal Museum we will each lunch while airplanes fly over our heads!
For the Chef:
Enroll your young chef in cooking school at Rice Epicurean Market. After cooking school, allow your child to host a "dinner party" for a small party (or maybe your family). Be sure to get out a table cloth and make a big deal over the dinner.
Write it up something like…  Get your apron ready for a real deal cooking school! Once you've honed your skills, you will be the head chef for the family restaurant. You will plan the menu and cook dinner. We are so excited to have a real chef in the family!
For the Movie Star:
Take your young movie star to Snip-Its for a pedicure, manicure, facial, haircut and/or up-do. At home, make your own photo studio with a sheet backdrop and some props, and have your very own photo shoot. Afterwards, take your star to a youth theater performance at Main Street Theater or to a movie. Or, if your child is old enough, consider signing up for theater classes at Main Street Theater.
Write it up something like….  It is so much fun to be a movie star! Grab your purse and we'll head to Snip-Its for some pampering.  Once we are super fancy, we will head to the movie star studio for a photo shoot. We'll wrap up the day by heading to Main Street Theater where we'll get to meet the other stars!
For the Rock Star:
Does your young rock star play an instrument? If so, arrange for a local preschool to watch him perform. Or, host a party and have all the kids perform. Then plan a trip to Hard Rock Cafe in Downtown Houston or to live show at Natachee's Super N Punch. If you are concerned about the content of the show, find a local church with a contemporary service like Neartown Church.
Write it up something like…  Calling all Rockstars!  We are heading to Natachee's to watch a real rock band, play in the sandbox and watch the trains go by.  Afterwards, we  will meet our musical friends at Market Square Park for a concert put on by the kids!
For the Pet Lover:
Call the local vet clinics and see if they will allow your child to shadow them for an hour. Offer to pay them or make a donation to their favorite charity. Consider also buying a plaque at the Discovery Green Dog Park and taking your child to find his or her name.
Write it up something like…  Pet Lover!  The Vets at the Dog Clinic need your help!  Get ready to be a Veterinarian for a day. After a big day of taking care of animals, we will take a picnic lunch to Discovery Green to play with our 4-legged friends.
For the Treasure Hunter:
Plan a scavenger hunt for around your house or neighborhood. Create 5 or 10 clues that take your treasure hunter to different locations. At the last stop, hide a box full of Chuck E Cheese tokens. Head to Chuck E Cheese for lunch and games.
Write it up something like… Treasure Hunters! Grab your backpack, shovel and flashlight… we are going on a treasure hunt! Your first clue is to located at the big oak tree. If you can find the treasure chest, you can use the loot for a great afternoon of fun and games.
An adventure can be created around any interest. This list could go on forever with adventures at the Butterfly Center, the Houston Zoo, the Museum of Natural Science and so much more. What do your kids like? Let me know your ideas or if I can help with some ideas!