Each day I make fun lunches so my kids look forward to going to school. That said, I've been on business travel for much of the last 3 weeks and my kids have been getting... well, I don't know what has been in the lunch boxes. I've been in town this week and think I will change the title from "I Love School" Lunch Boxes to "I'm So Sorry" Lunch Boxes.
Really, the lunch boxes are the least of my concerns. I'm just sorry for all I miss while I'm gone. So, fueled by a healthy amount of guilt, I set out to make some awesome lunches this week. It turned into sushi, hand rolls and rice balls.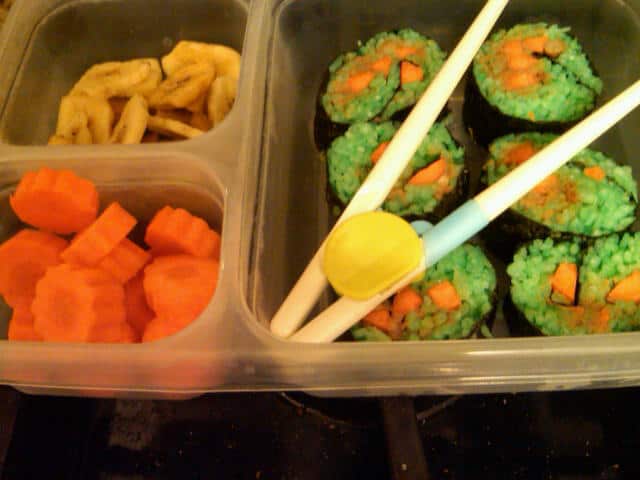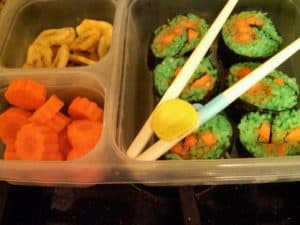 For the first lunch, I was inspired by the beginner chopsticks I picked up in Taiwan (similar to THESE
). I made Japanese Rice
in my rice cooker, added green food coloring, and followed THESE instructions for making sushi.
For the filling, I used carrots and... you don't want to know what else. Okay, fine, I used refried beans. My kids love them and, well, I'm just calling these fusion rolls.
Let me just distract you from my bean sushi by telling you that on the side I gave my kids carrots, cut with my new Vegetable Cutters
.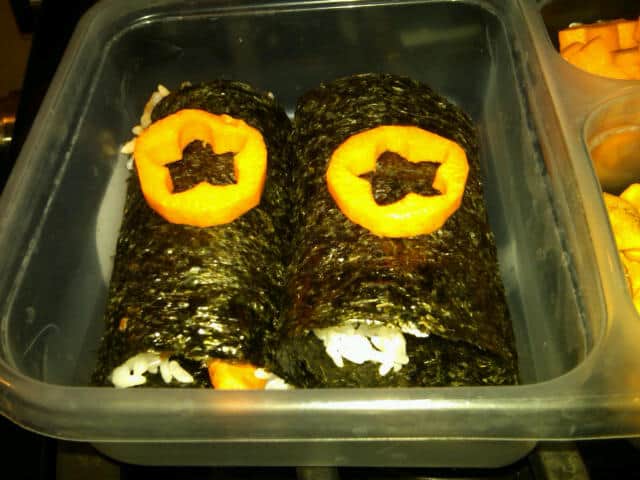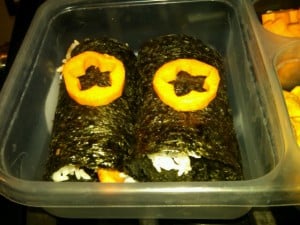 My kids liked the fusion sushi and the chopsticks, but told me that my sushi fell apart easily. So, for the next lunch, I decided to give them sushi they could eat like a sandwich.
I made the handrolls the same as I made the sushi... but did not slice them. Now that I've researched more, I should have made them like THIS. Lucky for me, my kids liked them just as they were.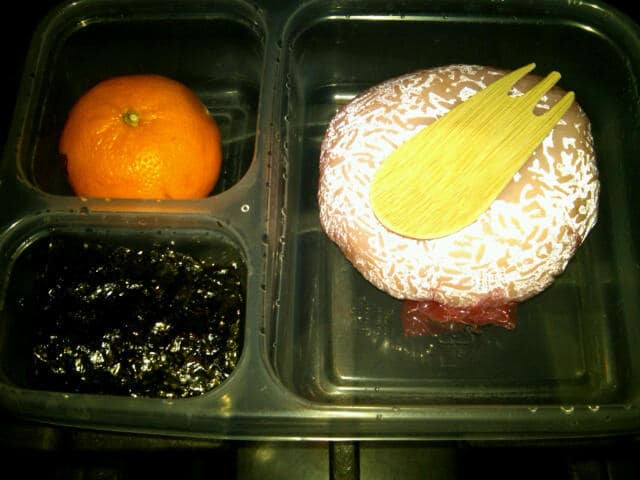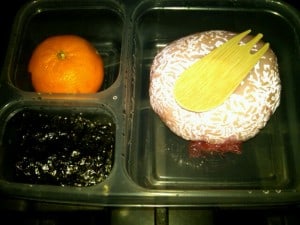 Later in the week I switched back to my favorite rice ball lunch. I followed the same instructions from HERE, wrapped the rice in red holiday Saran wrap and added Roasted Seaweed
on the side.
To my surprise, the favorite rice ball was untouched when Joe's lunchbox came home. Apparently this red rice ball looked like a brain and he was unable to unwrap or eat it. Brooke, on the other hand, had no issues eating the brain.
Even with the rice ball incident, I'm calling the week of lunches a success. I ran a victory lap around the house but stopped neighbors started texting each other. I think they were saying something about me acting so crazy when I'm home that they wished I'd take off again. Sorry neighbors, my kids like it when I'm home and crazy!