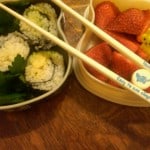 Every week day I send a fun lunch to school with my kids. It all started as a way to stop the "I don't want to wake up" and "I hate school" routine. The lunches worked to cheer up our mornings, so I plan to make them forever.
This week I made sushi, left over rice balls and rice cake ponds.
The first lunch of the week as avocado sushi. I'm not much of the cook or artist, but I've screwed up making sushi rolls enough times that, on this attempt, I made something that actually held its shape.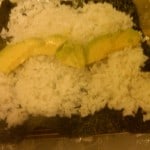 To do make sushi:
1. Make Japanese Rice
in the rice cooker. Make sure it's Japanese Rice
or it won't stick. (I know from experience.)
2. Lay out Sushi Mat
and cover with a piece of plastic wrap and a sheet of Nori
.
3. When rice is ready, add some salt and then put a thin layer of rice on the nori. Add a splash of water if it's a little dry.
4. Make a line with the fillings. For the kids I just added avocado (dipped in orange juice to keep it green).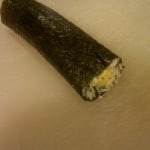 5. Roll over the nori and apply a lot of pressure. (It is the part that I usually screw up.) The roll needs to be really tight. Once it is wrapped up, squeeze again with the sushi mat.
6. Use a wet knife to cut the roll into slices.
I sent the sushi to school in our new Panda Bento Box
with Kid Chopsticks
.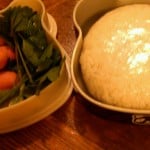 The next lunch was a left over rice ball.
We had made a Greenling Vegetible Stirfry for dinner and had a few stir fried veggies left over.
For the lunch boxes, I made a rice ball using THESE instructions and filled it with the veggies.
One the side I added carrots and parsley. (The kids once grew parsley at school and now think it is the best food ever. I don't correct them.)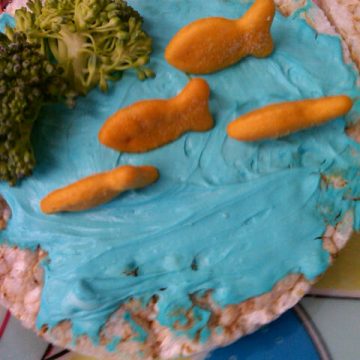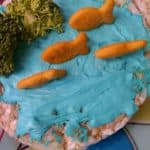 For another lunch I made a super cute fishy rice cake. (Focus on the cuteness and not that it's just a rice cake with cream cheese.)
I added some blue food coloring to whipped cream cheese, spread it on the rice cake, added some Goldfish and broccoli.
This did turn the kid's faces a little blue but it also scored high points.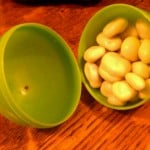 For more points, I finished off the week with an Easter egg surprise.
We happened to find our stash of plastic Easter eggs, so I cleaned them and added a little treat to the lunch boxes.
I filled the eggs with yogurt covered raisins and the kids could not believe their good luck.