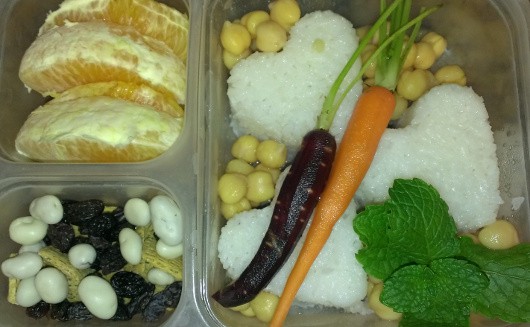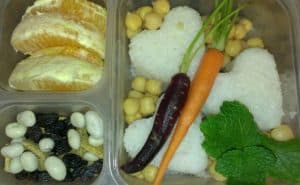 Each school day I make a fun lunch for my kids. It started as a way to get my son to go to preschool. I couldn't stand the morning ritual of hearing how much he hated school (which translates to:  I'm tired. I should have listened to you when you told me it was bedtime). The lunches were good motivation to get him out the door.
I now make the fun lunches for my daughter and my son. I haven't heard them say it yet, but I'm just *certain* that my fun lunches make them LOVE school. Or, at the very least, the lunches get them out of bed and in the car at approximately the right time each morning.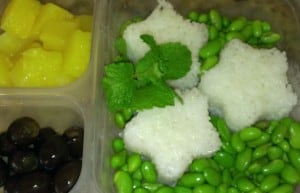 The lunches are never especially fancy, but I make up for that with fun. This week I used the contents from our Greenling Local Box, including spearmint, limes and carrots.
The 1st few lunches of the week included our favorite rice ball. For instructions on how to make them, go HERE. It is as easy as throwing sushi rice into a rice cooker and scooping it out with a Rice Mold
.
Our Greenling Local Box came with a live spearmint plant and a bunch of rainbow carrots, so I put these on top of the rice. On the side of the rice I added chickpeas and edamame.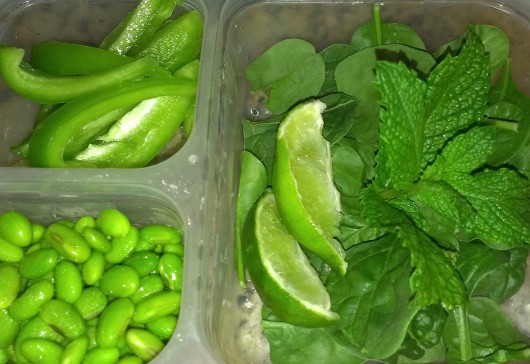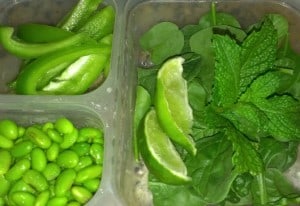 The spearmint was a big hit with the kids. Joe told me he was eating it like a salad on top of his rice. So, at the end of the week, I made the all green lunch. I added spinach, spearmint, limes (for "salad dressing"), edamame and green peppers.
Why did I make it all green? I needed some kind of cool factor to get the kids to eat a pile of spinach with no real dressing.
And it worked. The food was completely gone at the end of the school day. I just found a few lime peels and some happy kids.