Every school day I make fun lunches for my kids. It started as a way to get my son to actually want to go to preschool (and quit telling me how much he hated school each morning). My kids love school now, but occasionally (daily) they like to whine about waking up early. I use the lunches as incentive for them to hustle out the door.
I make a lot of rice balls, sandwich shapes, crazy hard boiled eggs and anything I think might make my kids smile (and move fast). For tips on making lunches, go HERE. It does not take much time or talent, just a few ideas. And the lunches don't even need to look especially fancy. Which is lucky, because this week my lunches were fun and ugly.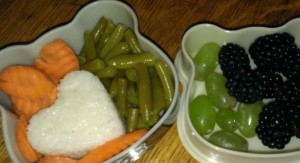 The first lunch was a heart rice ball with fruits and vegetables. For instructions on making rice balls, go HERE. It's as easy as dumping rice into a rice cooker and scooping it out with a spoon.
For this lunch, the spoon was this Heart Rice Mold
. On the side I added carrots and green beans. In the second tier of the Panda Bento Box
, I added blackberries and grapes.
I thought it was a pretty good lunch until I took the picture and realized it was just a little ugly. (It's a lot like when I get dressed in the dark and think I look pretty good, but then see myself in the mirror 4 hours later.)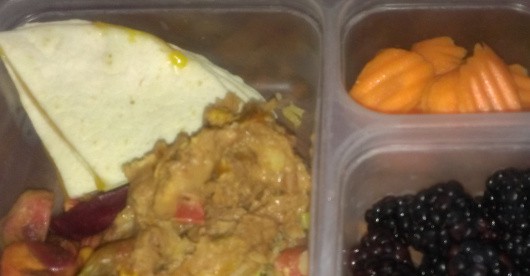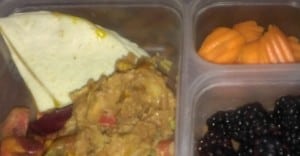 Still, the kids did not seem to notice AND I was able to top the ugliness a little later in the week.
I got home late from my birthday dinner at Chewy's and needed to make lunches quick. I may or may not have used my left over beans as the starting point for this lunch. Okay, I did.
I made a fresh quesadilla and threw in some beets and vegetables (which were also leftovers).
In the picture this looks a lot like slop. But, my kids must have been too hungry to notice. The containers came home empty and there were no complaints.
And so, the moral for this week is, lunches don't have to be fancy to impress a 3 and 5 year old. Please tell me this doesn't change until they are 23.