I make my kids cool lunches each day. I use them to combat the whining I hear each morning. As an alternative to yelling, crying or going back to bed myself, I distract them. I say, "Hey, I know you're tired but look at this awesome lunch. Now please get on your other shoe and stop tormenting your brother.".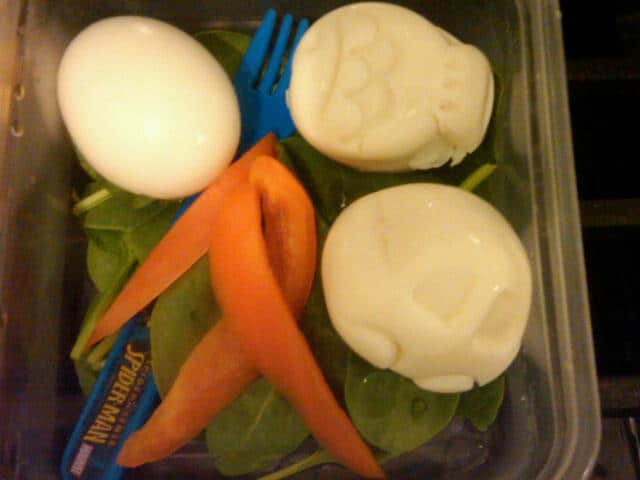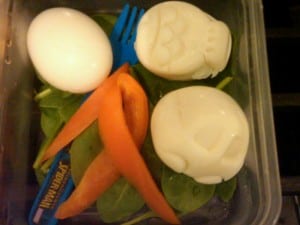 Making fun lunches does not take much extra time. Once I have an idea, or request from the kids, it only takes about 10 minutes. When I'm lacking inspiration, I just browse Amazon. Check out Funky Lunch
and Yum-Yum Bento Box
for some really cute ideas.
To start the week, I made the kids a spinach salad with peppers and fish and car shaped hard boiled eggs. This is easy to make and my kids like it, once a week. I'm told that if I make it more than once a week, my kids get headaches.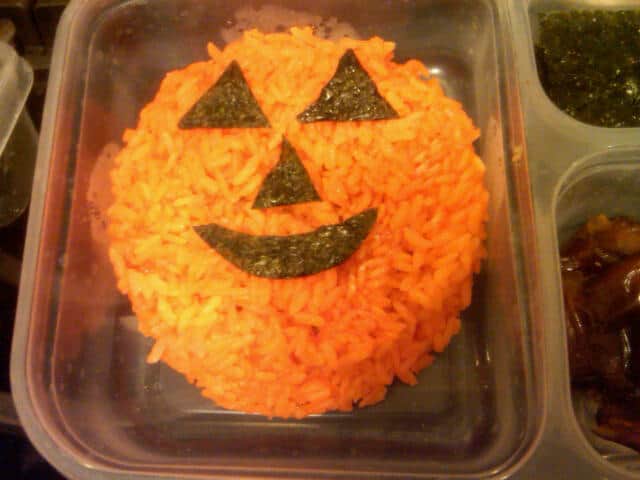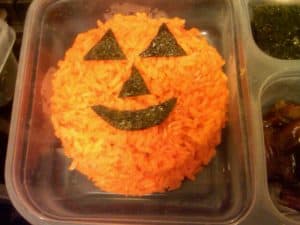 Not wanting to induce migraines with my hardboiled eggs, I switched it up for Tuesday. I've been on a Rice Ball kick and am willing to redo this lunch until it also causes fake headaches. This week I made the rice into a Jack O Lantern.
I made the rice using these instructions. Once I had the water and rice in the rice cooker, I added food coloring (20 drops yellow, 4 drops red) and stirred the uncooked rice. When it was done cooking, it was a bright pumpkin orange.
Japanese or Sushi rice is very sticky, so once you squeeze it into a mold, it keeps the shape very well. I used the round top from a big plastic container and made my rice circle. The lid was not very deep, so I made one rice circle, put beans on top of it, and added a second rice circle to the top. I used Nori
for the eyes, nose and mouth.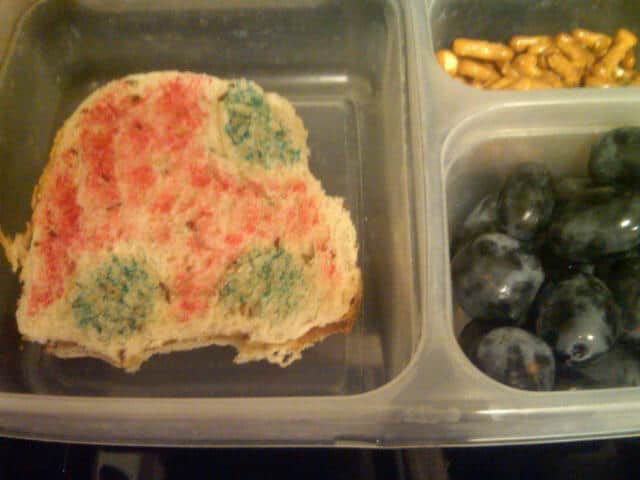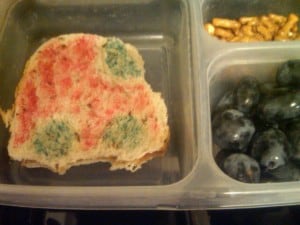 For the rest of the week, I made fun shaped sandwiches. Neither of my big kids can take tree nuts into school, so I made Sunflower Seed Butter
and jelly sandwiches.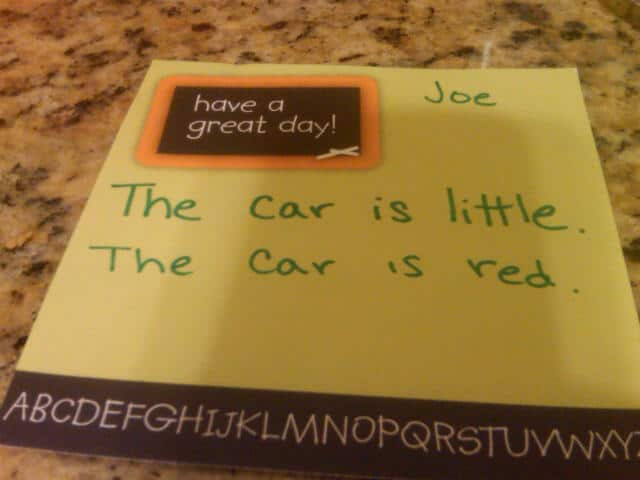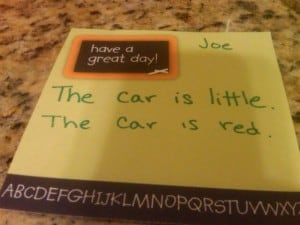 To make the sandwiches fun, I cut them out with my favorite Lunch Punch
and color them with Food Markers
. It's not much more work than just making a PBJ sandwich but adding the shape and color is a crowd pleaser.
I've also stolen the idea of adding notes into the lunch boxes. Each day I add a little note that includes kindergarten sight words. So, when I made the car sandwich, the note said, "The car is little. The car is red." Brooke gets them too because she wants to learn everything that her brother learns.
All in all, it was a good week. Morning whining was kept to a minimum and I'm told that school went well. Again this week, I'm giving full credit to my cool lunches (and ignoring the 12,000 other factors that may have contributed).