Each school day I make my kids a fun lunch. It started as a way to get my pre-schooler excited about going to school. I've made rice balls, sushi, fun shaped sandwiches, crazy hard boiled eggs, fire engine quesadillas, pinwheels, Cheerio necklaces and more.
But now it's after Memorial Day, we have 1 more week of school and I'm considering Lunchables, fast food, or, *gasp*, school lunch for my kids. We need summer break to get here fast!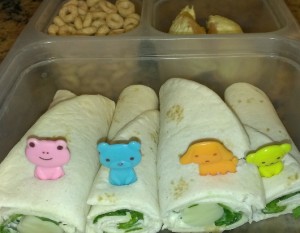 This week I did pull together my easy wraps, and then repeated this lunch 5 times.
To make this lunch, I put spinach and a cheese tick in a tortilla, wrapped them up and added Animal Food Picks
to make them a little more fun.
By the end of the week my kids were wondering where all our cool lunches went. I told them that the last couple of weeks of school are all about survival. It was no time for lunch box heroics.
If you are looking for ideas for fun lunches, I suggest you look at lunches we made earlier in the year HERE! Or, check out some of my favorite idea books:
Yum-Yum Bento Box
Funky Lunch
The Lunch Box: Packed with Fun, Healthy Meals that Keep them Smiling