Each day I send fun lunches to school with my kids. I make them the night before so that in the morning there can be:
a) A little less chaos.
b) Something to motivate my kids to hustle.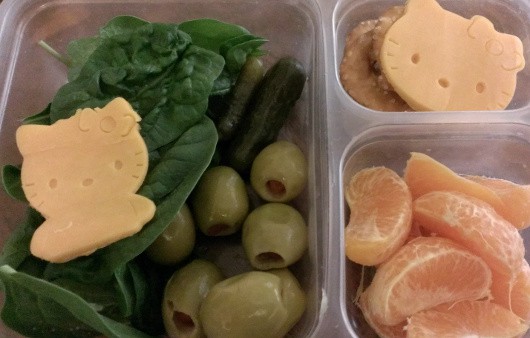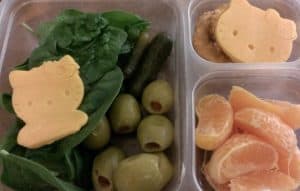 Mornings are a little wild around here. Showing the fun lunch to the kids helps us get to school just as the bell is ringing... instead of right after.
The first lunch this week used our new Hello Kitty Cutter
. This little cookie cutter comes in 2 parts. With 1 part I was able to cut out the shape of the cheese and with the other I was able to stamp the Hello Kitty face.
I added some spinach, pickles, olives, pretzels and oranges and called lunch done. (For Joe's manly lunch, I used this Penguin Cutter
instead of Hello Kitty.)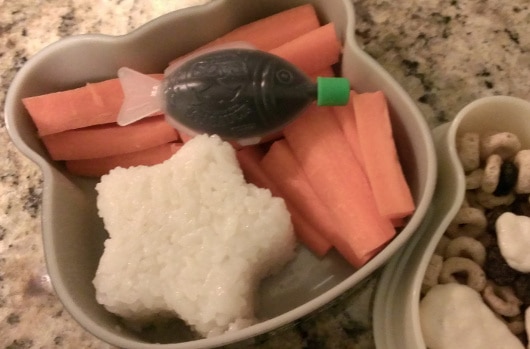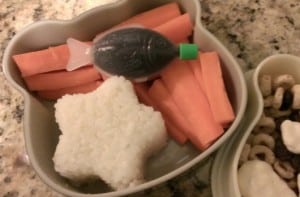 I made a couple of variations of this lunch and switched it up on Friday.
One of our favorite things for lunch is rice balls. They are easy to make, they look cool and the kids like to eat them. For instructions on how to make them, go HERE.
For this lunch, I used this Star Rice Mold
.
I added carrots, my famous trail mix (Cheerios, raisins and whatever else is in the pantry) and a GoGo Squeez Applesauce
.
I found this cute little Soy Sauce Container
and sent it along with the rice. I filled it a little full and I'm sure that the sodium did bad things to my kids. But arguably, it was still better than school lunch.
Next time around I'll fill the soy sauce half full. Lucky for me, I get plenty of re-dos on this school lunch thing.