Each school day I make my kids a fun lunch. It's my clever way of reducing the morning whining about not wanting to go to school. Telling the kids that they should have listened to me at bedtime does not seem to get them excited about waking up, but the fun lunches usually do.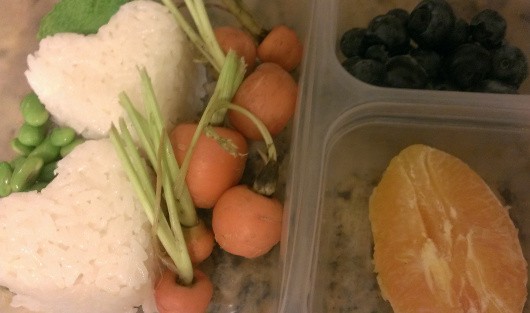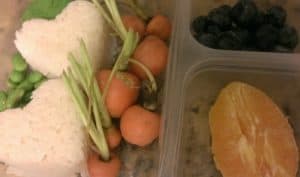 The first lunch this week was the funny carrot lunch. At the Urban Harvest Eastside Farmer's Market, we picked up some funny looking carrots. These little balls are the full sized carrot. They taste like regular carrots but are super cool (I'm told).
To go with the super cool carrots, I made our trusty old rice balls and added edamame, spearmint, blueberries and orange. For instructions on making rice balls, go HERE. For this lunch, I used this Heart Rice Mold
.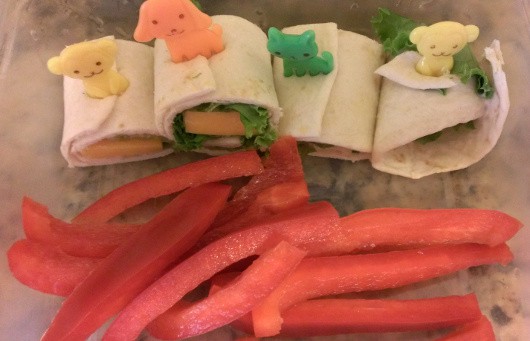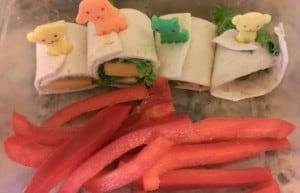 I repeated this lunch a few times and then switched to the super easy mini animal wraps. It's the lunch I make when I'm short on ideas... like when there are only 10 days of school left and we are in desperate need of summer break.
These Animal Food Picks
are good for making any lunch more fun. For this one, I just made lettuce and cheese wraps, added the animal food picks and sliced them into 2-bite pieces.
On the side I added red peppers, raspberries and grapes.
The kids did not seems to care that this was my easy lunch and ate every bite. Phew!