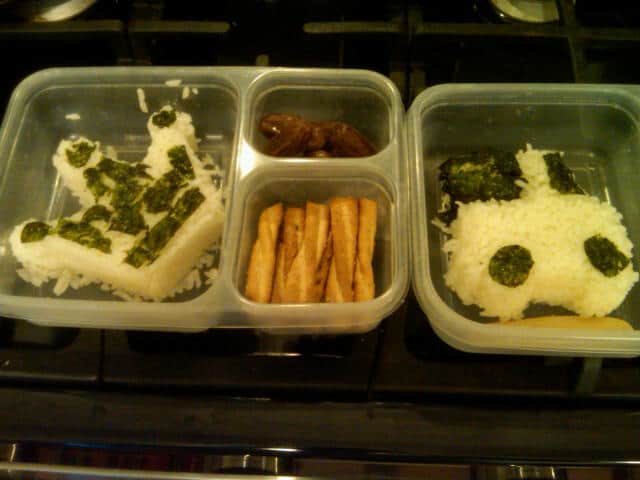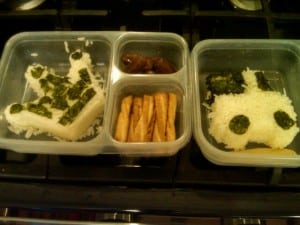 I do my best to make cool school lunches for my kids each day. Brooke loves preschool so much that I could send her with a box of sprouts and she wouldn't care. Joe, on the other hand, is still getting used to kindergarten and I use my lunches to distract him from the long days and awful nap time.
I'm known for repeating a good thing over and over until the kids roll their eyes. I've been making rice balls and shaped sandwiches for weeks. This week Joe and Brooke asked for me to make rice balls in the lunch punch shapes. I almost tried to explain that I have no skill and need specific tools form Amazon.com to make lunches look cool. Instead I decided to just focus my efforts on creating something that looked like a crown and truck out of rice.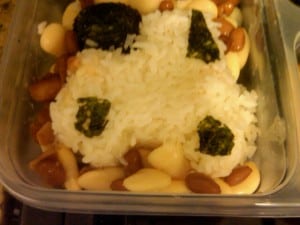 I found that if make rice like I described HERE, lay a Lunch Punch
on a plate, I could squish the rice into the right shape. I moved it into the lunch container but did not manage to stuff it with any vegetables or beans. The kids were impressed with my creations, but pointed out my mistake. The next day I tried again and added a load of beans. The only criticism was that refried beans would have been better. Apparently my kids like my Mexican Japanese fusion creations the best.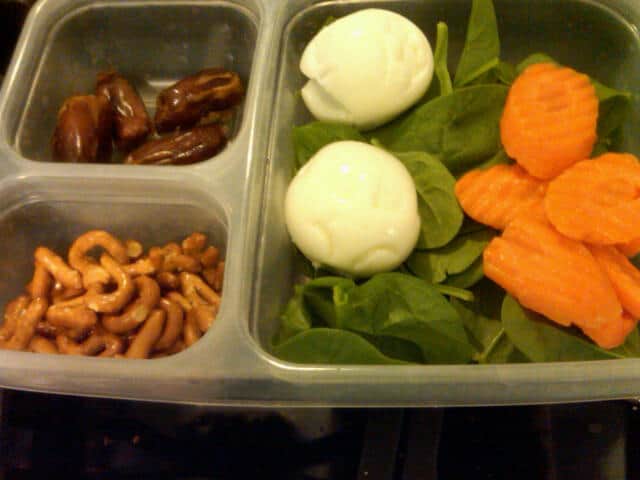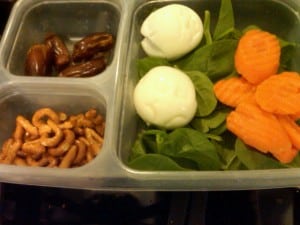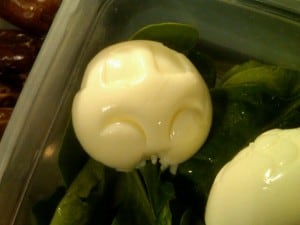 Not wanting to risk another truck shaped rice ball, I decided to go with a sure thing. My kids can eat 1 dozen eggs in one sitting. With this being the case, I boiled 12 eggs and made them into car and fish shapes with my handy Egg Mold
. (For instructions, go HERE.)  For the school lunches, I made spinach salads and added a couple eggs. Brooke and Joe then ate the remaining 8 eggs in 10 minutes.
For the final lunch of the week, I made my trusty apple puzzle and spinach and cheese hoagie. For the apple, I sliced the apple, put the pieces back together, and held it with a rubberband. (This keeps it from turning brown.)  I made it extra cool with Halloween bags and a pumpkin pick from Dollar Tree.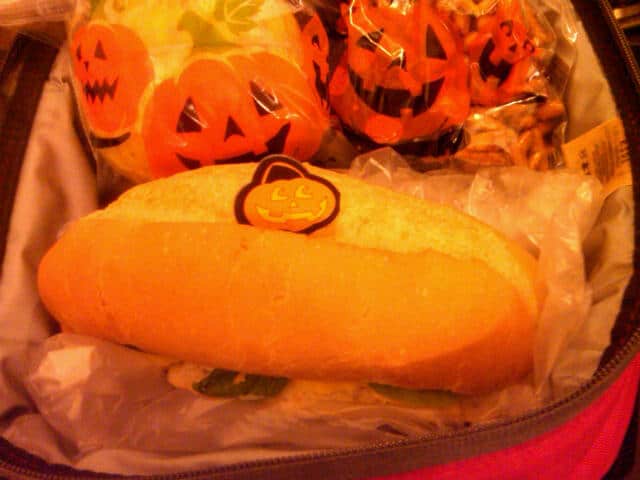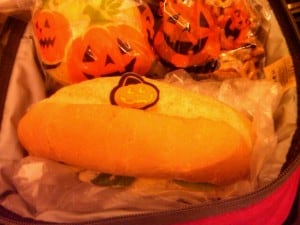 When school let out on Friday, Joe was happy about kindergarten. I'm not sure if this was because of my lunches or because we were headed to a weekend adventure. I'm *just positive* it was because of my cool lunches.