Each week I try to make fun lunches for my kids. This week I was on business travel for a couple of days, and although I'm *sure* the kids didn't even notice that I was gone, I did my best with the 2 lunches I did pack.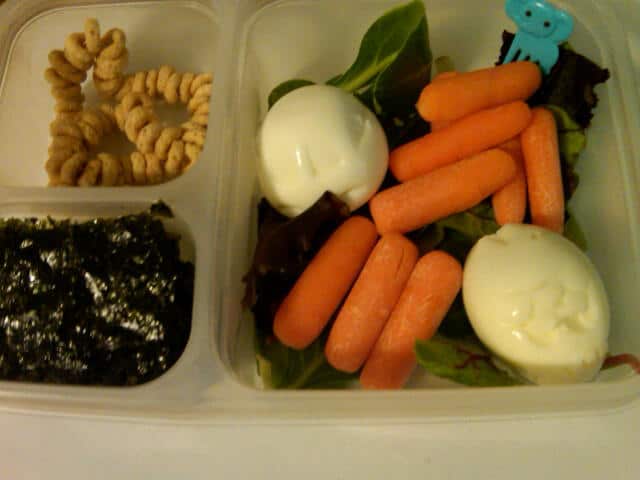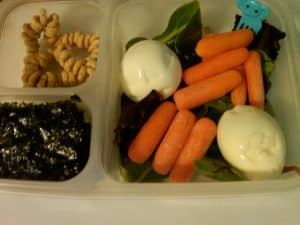 And when I say that my kids didn't notice I was gone, I'm joking. Brooke's "news" at preschool each week since September has been some variation of, "My mom is gone again. But she always brings me chips. I like chips.".
Knowing that I can win my kids over with food, and that they requested the fun hard boiled eggs last week, that is what I made.
Using the Kotobuki Plastic Egg Molds
, I made a car and fish hard boiled egg. More details on how to make them can be found HERE. I added lettuce and carrots and made it a salad. The Animal Food Pick
is like a small fork and makes the salad more fun to eat.
Somehow the kids suddenly remembered the Cheerio necklaces that I made last year (with floss and Cheerios), so I added this to the lunch as well.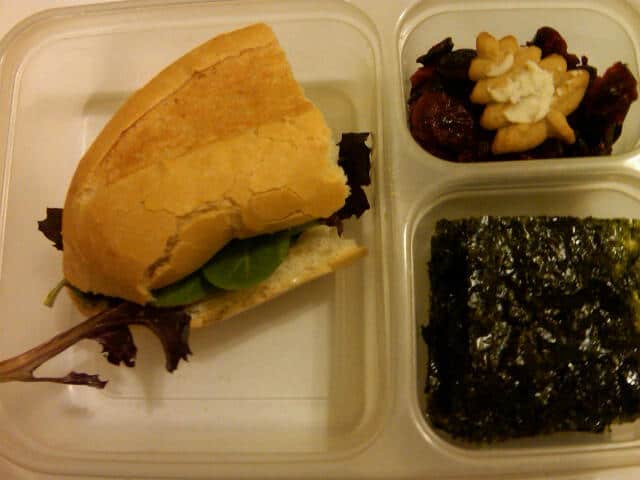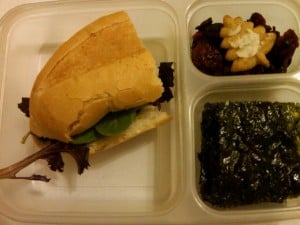 For the next lunch, I made a veggie sandwich on a roll. (Joe decided to be an almost vegetarian 6 months ago, eating only fish, and has not waivered since.)  I added roasted seaweed on the side. The kids love this salty snack. (I personally think it tastes a little fishy, but I keep that quiet.)
I also added dried cranberries and a Christmas cookie. Cookies are technically against school guidelines, but, well, it's Christmas time and I'm trying to distract my kids from the nonstop business travel. Bribery is encouraged in most parenting books, right? (Seems like all our teachers are on board with this and no one has mentioned the contraband!)
One more week of lunches and then it's holiday break. Hard to believe the school year is half over. Seems like yesterday I was taking my nervous Kindergartener to school (with his cool lunch).