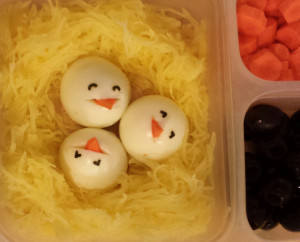 Each school day I make fun lunches for my kids. It started as a trick to get my son excited about preschool. The plan was to change the morning whining into him chanting, "I love school!". I never heard him actually chant, but the lunches were certainly a good distraction. I've been using the same trick for 3 years and it seems to still be working.
This week I was on business travel, so we had a lot of repeats from previous weeks and a couple dad lunches. However, one day I was able to pull off a new lunch:  chicks in a nest of spaghetti squash.
To make the nest, I cooked spaghetti squash in the microwave. For instructions, go HERE. It is very easy and just requires you to slice the squash, scoop out the seeds, microwave and then shred the "noodles" with a fork.
The chicks are made from hard boiled eggs. I sliced the eggs in half so they would fit in my container. I made a small cut on top and slid in a carrot beak. I used a Nori Punch
to make seaweed eyes. On the side I added carrots and olives.
Not including the time the eggs and squash were cooking, this lunch took less than 10 minutes. Hip hip hooray!
Now I'm off to flip through The Lunch Box
for ideas for next week!