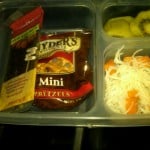 I've been making fun lunches for my son all year. I use cookie cutters and food markers and he thinks I'm the coolest mom in the world. He also looks forward to going to school and taking his lunch box.
Some days my lunches are better than others. This week I had one desperate attempt at "fun lunch" and one pretty fun lunch. The first one was my desperate attempt. I gave Joe rice noodles with carrots, kiwis, pretzels and a fruit stick. I thought it looked a lot like left overs and old pantry food, but he ate it all up. His only complaint was that kiwi makes his mouth all jammed up. I think this means his mouth is sensitive to kiwi and he no longer loves zu-kiwis (his favorite food last week).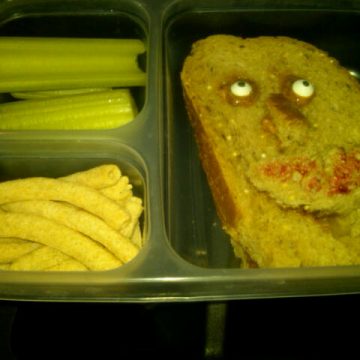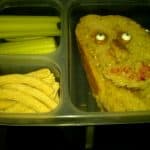 The next lunch was a little better. I made an almond butter and jelly sandwich and added Candy Eyeballs, crust nose and drew on a
Food Marker
mouth. I threw in baked apple straws and celery. Joe told me that he really liked the candy eyeballs. I might start attaching them to everything I want him to eat.
Over the summer, I need to send myself to fun lunch boot camp. Next Fall I'll have two in school and need some seriously good (and easy) ideas.