When I started making fun lunches for my son, he stopped telling me he hated school. I decided that if a simple lunch could make him love school, I'd keep it up until he graduated from collage.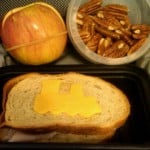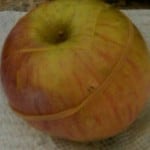 The first lunch this week was a simple turkey sandwich with a cheese train cut out. What made it extra cool was the apple. I sliced the apple, put the pieces back together and held it together with a rubberband. This kept it from turning brown and scored me extra points with my 4 year old. I need to remember that puzzle apples are in for 2012.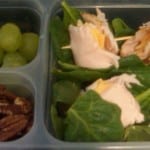 The next lunch was a spinach salad with turkey and cheese pinwheels, pecans, grapes and plastic fork. I thought this would be a hit because Joe likes to use the little plastic-ware sets we've picked up at restaurants. But I was wrong. I think he ate one grape. Help me remember that salads don't even come close to puzzle apples on the cool scale.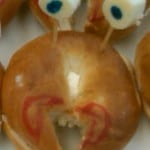 I was feeling down about my lunch box failure, but pulled myself together to take snack to Joe's preschool class. At home we have made fancy crabs with crescent rolls, pepper claws, baby carrot legs and cheese eyes. Joe suggested we do this at school. I was not very excited to make 20 of these, so we modified the design.
We took mini bagels and filled them with cream cheese. I sliced out "claws" and used Food Markers
to draw them on. Next we sliced up a cheese stick, made a dot with the Food Marker
and used toothpicks to attach them.
As we assembled our crabs, Joe proudly announced to his friends that this was how his mom made all his fancy lunches. I had to step outside to do my little victory dance.