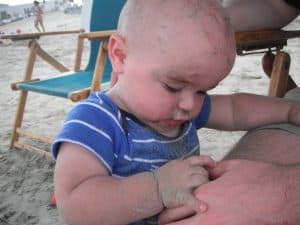 If you were in Galveston today, you may have seen a sweet baby rolling around on the beach and his mom shaking her head, wondering what on earth she was going to do with her sandy boy. Well, that was my family and here is what I did.
Baby James had wet sand everywhere. I tried to wash him off with some drinking water, but the sand was still stuck. Lucky for me I had seen someone at the playground use baby powder to solve this problem.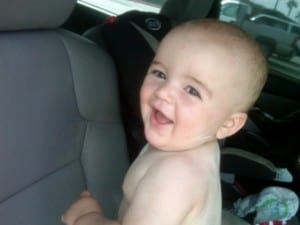 It turns out that baby powder (or corn starch) absorbs moisture and allows the sand to just brush off. It works quick and leaves skin soft and smelling good.
I liberally applied powered all over James and am happy to report that it works just as advertised. The sand just brushed off. I then used it on my feet. And my husband's feet. And then all over Joe and Brooke. I think I will start buying baby powder in bulk.
If I worked for a baby powder company, I'd make this my summer campaign theme. It's amazing.