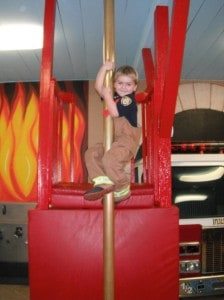 BigKidSmallCity has a BIG giveaway this week! We have a 1 YEAR FAMILY MEMBERSHIP to the Houston Fire Museum!! It's worth $50!
One lucky winner will be able to visit the museum for free for 1 year. You can learn about the history of the Houston Fire Department and let the kids play in the fantastic playroom. There is the cab of a real firetruck, with lights and radio, a real fireman pole, hoses, a fire safety house, and firefighting gear to wear!
To enter the contest, you must:
1. Go to FACEBOOK and "Like" us.
2. Sign Up for the Free Weekend Events Newsletter. (On the right of the homepage.)
3. Leave a comment on THIS POST with your favorite thing about the Fire Museum (or what you are most excited about).
On July 12, 2013 I will randomly select 1 winner using RANDOM.org. Good luck!