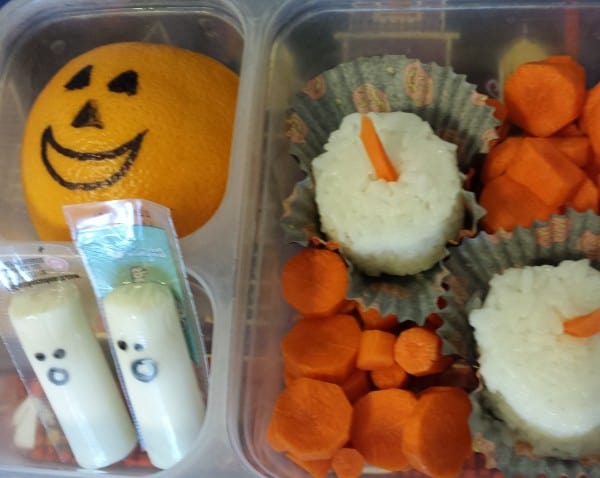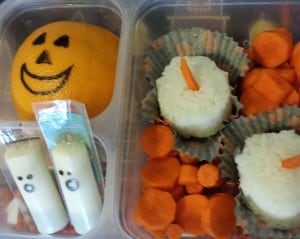 Each school day I make fun lunches for my kids. It's a trick to get them excited for school and out the door on time.
It seems that countering the consistent complaint of, "I'm tooo tired for school" with "I told you to go to bed on time" doesn't get me very far. However, showing them the fun lunch is distracting enough to forget just how tiiiiired we are.
This week I went with a Halloween theme. Lunches included pumpkin rice balls, ghost shaped quesadillas, jack-o-lantern oranges and a mummy juice box.
Each lunch took less than 10 minutes to make and very little skill. And you will see just how little skill in some of the pictures. (Good thing I just needed to impress a 4 and 6 year old!)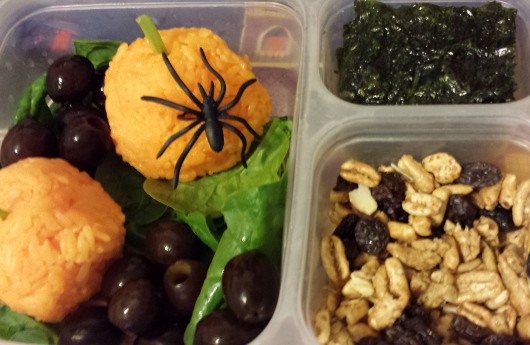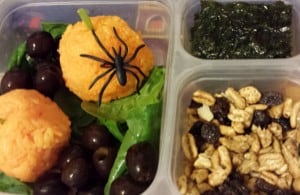 The first lunch is the rice ball cupcake. This poor lunch has a lot going on. Fortunately, my kids liked the mess of Halloween themed items. (If you make it, maybe make the "cupcakes" or the Halloween them, and not both!)
For instructions on making a rice ball, go HERE. For this "cupcake", I used this round-ish Rice Mold
. I added a carrot candle and cupcake liners. I also added "ghost" cheese sticks and jack-o-lantern orange.
The next lunch got a little less wild. I made more rice balls using THESE instructions. I formed them by hand once the rice was a little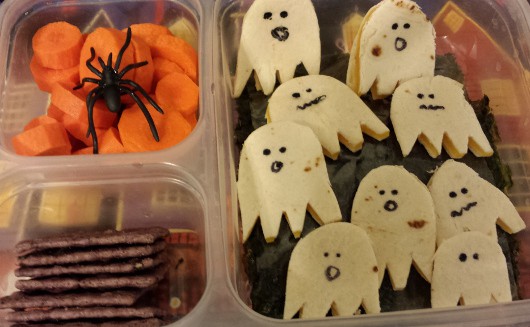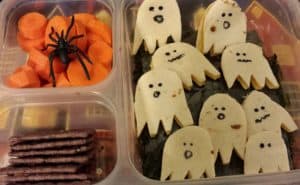 cool. If you do this, be sure to get your hands wet so the rice does not stick as much. For a stem, I added a spinach stem.
I added some spinach leaves and olives to the pumpkin patch. On the side I added some roasted seaweed and my super fancy train mix. (Super fancy trail mix = anything I can find in the pantry, like raisins, nuts and cereal.)
Also, my kids have been "decorating" for Halloween by putting Spider Rings
in my fridge. I added one to the lunch.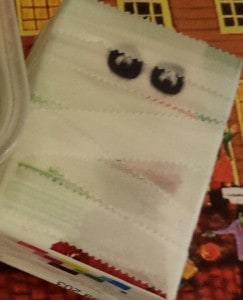 The next lunch was my best and I repeated it the rest of the week.
I made cheese quesadillas and used Kitchen Scissors
to cut them into ghosts and drew faces with Food Markers
.
I put the ghosts on roasted seaweed (in a bag to keep it dry) and added purple rice crackers, carrots and a spider on the side.
I found myself a juice box and medical tape and made a little mummy for the kids as a special treat.
Now I'm off to Pintrest to find more ideas for next week!