In honor of the 10th anniversary of its highly acclaimed Panto series, Stages Repertory Theatre proudly presents a new production of Panto Cinderella, with music and lyrics by Gregg Coffin (Five Course Love) and book by Paul Witworth.
Stages was the first theatre to introduce the Panto form to Houston with the original Panto Cinderella in 2008, and has continued each holiday season to produce a Panto variation. Several of the original 2008 cast return for this production, including Genevieve Allenbury, Ryan Schabach, Tom Prior, and Calvin Hudson, and they are joined by Stages' favorites Holland Vavra, Kay Allmand, Zachary Reeves, Jeremy Gee (Winner of a 2017 Houston Press Theatre Award), and Joe Daniels.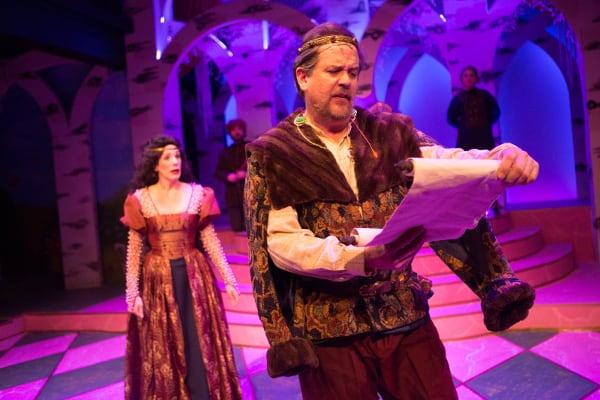 Allmand and Thomas Prior in Stages Repertory Theatre's production Panto Cinderella. Photo by Os Galindo.
Traditionally performed during the holiday season for family audiences, British Pantomine, or Panto, traces its roots all the way back to Greek and Roman Times, incorporating elements of commedia dell'arte, harlequinade and vaudeville. Panto has long been a holiday staple throughout the UK, characterized by a combination of song, dance, buffoonery, slapstick, cross-dressing, topical reference and audience participation.
Stages is only one of a handful of theatres in the US that produce Panto productions during the holidays, and audiences can expect to come ready to laugh, cheer and boo along with a crazy cast of fairy tale favorites, tailored to be enjoyable for the whole family. For this year's production, Panto's madcap storytelling style breathes new life into the familiar tale of humble Cinderella, her fairy godmother, her prince charming and her hideous (and hilarious) stepsisters.
Performance times are Wednesdays through Fridays at 7pm, Saturdays at 2:00pm and 7pm, and Sundays at 2:00pm. Additional matinee performances are available on December 21, 22, 28 and 29.
Panto Family Fun Days, which include activities and refreshments with the cast following the matinee performances, are offered December 2, 9, 16, 21, 22, 23, 24, 28, 29, 30 and 31.
Regular tickets start at $25 with savings for groups of 6 or more To purchase, call the Stages Box Office at 713.527.0123 or reserve online at www.stagestheatre.com… AND I have 4 tickets to give away to 1 family for the Wednesday, December 13, 2017 at 7:00pm.
To win, register below (or HERE).
Update:  Congratulations to Shivani S!
Contest Ends:  December 10, 2017
Official Rules: https://goo.gl/h11cVA