With BigKidSmallCity, I am hoping to encourage parents of young kids to get out of the house and enjoy life. Prior to the blog, I was a working mom who could just never get her house (and life) as clean or as organized as it was before kids. Yet ever spare minute I had was spend cleaning and organizing as a tornado (kids) swept through and messed it up again. I would then be even more desperate to get some order back into my life.
After a few years I met some moms who were out at every Houston event and showing their kids around the big city.  It hit me that cleaning up in the middle of a tornado was not the best use of our time. So, overnight, we became the family that saw and did everything in Houston.
Our house is not extremely clean, but since we are home less often, there are fewer messes to clean up each night. The kids are happy because we go on daily adventures and I am happy because I am finally spending real quality time with the kids. I've given up the goal of having every minute of my day and every corner of my house organized and have replaced it with something new. And life is better than it ever was pre-kids.
Now, let me tell you about going out with the kids. The kids and I talk a lot about how we are going to act when we get to our destination. We talk about what to expect and what will happen if there is fighting or fits. The kids are generally very well behaved but we stay flexible because 3 little moods can be hard to predict and manage. It is very common for us to step into the restroom to discuss our behavior or to just leave all together.
I've always thought the our traveling circus was generally well behaved and well managed by mom. But let me tell you why I started to have doubts.
Last week we were at the grocery store. Sometimes I take the kids and sometimes my husband takes the kids. We're never there together, but because of our kids, the staff knows who we are. On this trip to the store, the kids were hungry, the store was packed with Thanksgiving shoppers and we were doing our best to be quick.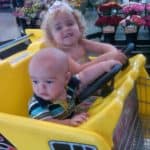 At the sushi counter there were samples, which we usually try, but the kids did not like the available variety. This threw off the BigKidSmallCity equilibrium. Joe began searching for sushi that he wanted to buy, James started squeaking and Brooke was sure she should get out of the cart.
In these 10 seconds, the lady at the sushi counter had the nerve to say to me, "You cannot manage your kids. Your husband can manage them.". Uh, what? So not only could I not control my kids that I tote all over the city and the country, by myself, but my husband does a better job?  This may have been the very best insult ever directed at me.
Although I knew that the sushi lady did not know anything about me, her insult ate at me all week. I began to wonder if I'd lost my touch. If maybe my recent business trips had made me lose control of my kids. And naturally, I told all my girl friends about that damn sushi lady.
Today I took my kids (that I cannot manage) on a few errands and then to McDonalds for ice cream and to play. I did my mom thing in corralling 3 little kids while ordering, eating and then playing. We had some minor spills and a brother-sister tiff. All were managed quickly but at one point, baby James had just had it.
We packed up our things and before we left, a woman came over to tell me that I did a very good job taking care of my kids and that she could see I was a very good mother. And just like that, I had my mom confidence back.
On the way home I thought about how simple it was for that lady to come up to me, but how uncommon it is. And I don't know that I've ever done anything so sweet. She made a point of talking to me and it changed my overall outlook and attitude.
Next time I see a mom or dad doing a good job, I think I will tell them.  All parents should be brave enough to get out of the house, and then be recognized for this bravery and hard work!