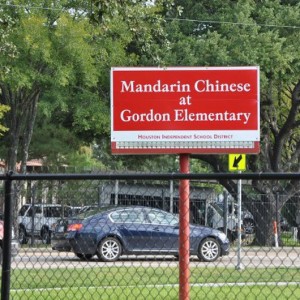 Today, when we were on our way into school (we got there a little early), a Houston Chronicle reporter interviewed us. Joe, you may recall, is in HISD's new Mandarin Chinese Language Immersion program. Here is an excerpt from reporter Erin Mulvaney's article:
Elsewhere, the Houston Independent School District opened its Mandarin Chinese Language Immersion School at Gordon Elementary, a first for the district.

Elementary age children filed into the school Monday morning, ready and excited for the prospect of learning a new language.

"We couldn't turn it down," Jill Jarvis said as she and her 5-year-old son Joe walked into the school. "It's great for them to learn another language and makes their brain work at an early age, as opposed to trying to learn when they are 30."

She said she took Spanish in high school, but has since forgotten. At that point, Joe piped in and said he could remember some Spanish words. He said he is glad to take immersion classes.

"I can tell secrets with my friends," Joe said, smiling mischievously at his mother at the prospect of knowing a language she does not.

"I think it will be frustrating for him at first with the full immersion," Jill Jarvis said. "He is resilient and likes to learn."
It's always neat to be interviewed by the newspaper!