Address: 1732 Westheimer Road, Houston, Texas 77098
Cost: Reasonable for a Sit Down Restaurant
Appropriate Age: Any Age
Our Review: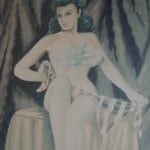 The Empire Café is a European coffee shop, cafe and bar that is cool, casual and a little classy. It is located in Montrose, right on Westheimer, and has indoor and outdoor seating. It is not for those looking for the laid back coffee shop. It's for meeting friends, meeting business partners, grabbing a casual lunch or bringing your kids. Food is ordered from the counter and the staff is friendly and will remember your name if you go enough times.
House coffee and iced tea are refilled for free; breakfast, lunch and dinner are available; and happy hour with alcohol, wine and beer keeps this place swinging into the evening. If that's not enough, cakes line the counter top and slices are half price every Monday.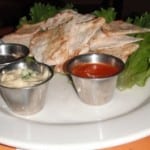 My kids and I went to Empire Café, or as they call it - Vampire Cafe, for an early dinner on a week night. The large parking lot in the back made parking easy. Inside we were able to order at the counter and sit in the side room so we did not disrupt anyone. That said, I don't think anyone would have noticed if we sat in the middle of all the action. The restaurant has a buzz about it and people don't seem to worry about a few squeaky kids.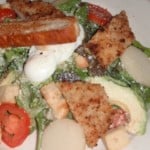 There is no kid's meal, but the menu has a lot of options and the specials always line the counter. My kids and I shared the Dips of the World (artichoke spinach, spicy marinara and black bean dips; served with baked pita chips) for $6.50, Nutty Chicken Pizza (grilled chicken, cashews, spinach, mushrooms, marinara sauce and mozzarella cheese) for $10.95 and a Caesar Salad (crisp romaine, focaccia croutons and fresh parmesan cheese in a mild caesar dressing with grilled chicken) for $8.95. Everything was great and my kids gave it two thumbs up. The salad had a lot of dressing, and I'd order it on the side next time... but it was Joe's special selection and he took care of most of it.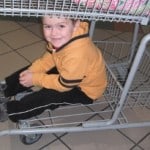 The walls have several paintings of voluptuous women and  my 4 year old wanted to know about them. Once I told him that they made the restaurant fancy he went back to eating his giant Caesar salad. Phew. Neither Brooke nor James could stay awake for the time it took Joe to finish his dinner. I personally did not mind because I kept on refilling me black currant iced tea.
We like this local cafe and plan to go back again soon. Next time you are in Montrose, head over to Vampire - I mean Empire - Cafe.