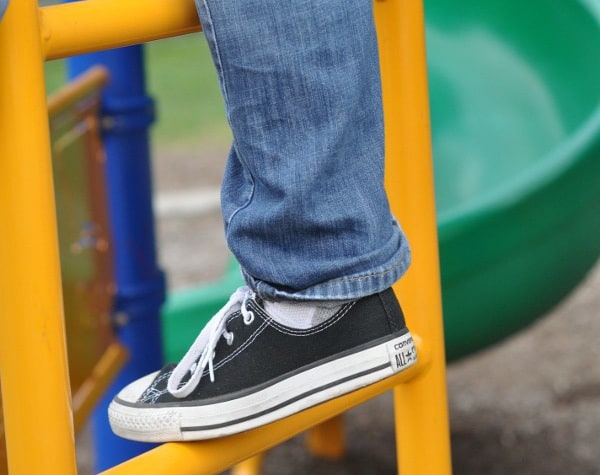 I just shared my story about the
bad guy that did not look like a bad guy
... and one of the most popular comments has been about the code words I have for my kids. Since this inspired a lot of people to think through their own plans, to talk with their kids about bad situations and upset just a few people, let me expand on the code words I have for my kids.
I got some good feedback that I should teach my kids to use real words about how they are feeling and not code words. I totally agree and I should teach my kids real words to express their feelings. We are doing this a little each day.
That said, our code words are not for the kids to use, they are for the adults.
We have 2 code words that the kids know, but do not say themselves.
1. The "Pick Up" Code Word:  I tell my kids to behave well. At school, they have a behavior scale, and if they came home on "red", they would be in trouble. At restaurants, if they do not listen to the waiter and show respect for the other patrons, they will not go back. And the list goes on. In most situations, they are told to be well-behaved and show respect to adults.
But if an adult stranger approaches them and asks for help finding a puppy or says that their mom asked for them to drive them home or whatever... do they show respect and go along with the adult? This is a real concern of mine, so we have a code word.
If an adult approaches my kids at school pick up, or at the park or anywhere, the kid is to ask for the code word. If the adult knows the word, they will go along with what the adult is suggesting. If the adult does not know the code word, they must yell, scream and run. They absolutely will not get in trouble for not being respectful. They do not need to question their behavior, they need to call attention to themselves.
Now, I also say that if they are uncomfortable, they should be very firm with the person and tell someone. For this they also will not be in trouble... but this is not as black and white. With the code word, it is very clear when to be respectful and when not to be respectful.
If you are looking for a code word, it can be a word or line from a movie or anything your kid will recognize but not tell anyone.
Use a code word or not... do whatever works for your family!
2. The "Let's Go" Code Word:  This is the word I use. We visit a lot of Houston parks and I do not always know what they will look like. When I say, "Let's go!" from any fun place, the automatic reply is to ask for 2 more minutes. Or 10. And that's fine because I know that parks are way more fun than homework.
But if I feel uncomfortable, I say the code word plus "Let's go!"... this means stop what you are doing and come find me or we are not visiting another park for a long long time.
Of course, I could also use real words, but I am not going to yell out that, "That person looks creepy, get in the car quick!" or, "I do not like the guys sitting on that porch over there!". You should do whatever works for you, but the code word is the same every time and has worked for us. It means, I am serious and get over here now.
Since the restaurant incident, I now have a code word I use with other adults (like my husband, best friend and mom).
3. The "Check On Me" Code Word: At the restaurant, when I was irritated (before I was threatened), I should have called my friend and said code word plus "See you soon at the restaurant!". This means, I don't like this situation so start asking me questions.
I agree with a the advice on being very firm with someone that is bothering me. I certainly think this is important and now feel like I have a tool box full of tools to use when I feel threatened.
But here is the thing. I am naturally very introverted and get annoyed by people all the time. The loud woman at the mall, the man who told me my husband should be grocery shopping with me and my pile of kids (true story), the other man who told me I was reproducing at an alarming rate (another true story) the person who wants to chat about my problems at the doctor's office waiting room or the person that just wants to talk when I do not want to talk.
I do my best to side step the situations and I do not think yelling at everyone is the right approach for me. (And yes, if they cross a line where I feel unsafe or uncomfortable, that is different!)
So, this code word means, check on me and make sure things are okay. Probably I'm just being silly and will have a funny story to tell, but maybe not... and my husband, friend and mom get this about me.
So you can be direct with the person or call a friend or do your best to ignore the person. Really, you should do what is best for you.